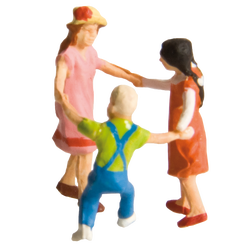 Our Theme Worlds
Around the world in just one day! Gamble in Las Vegas, relax at the Norwegian Fjords or be impressed by the grand St. Peter's Basilica in Rome... Only the sky is the limit in Miniatur Wunderland!
Central Germany & its Highlights
Central Germany is one of the oldest landscapes in Miniatur Wunderland. It was built together with Austria and Knuffingen during the first construction phase from and has become an important milestone in the renaissance of model building.
Knuffingen: Discover the capital of hearts
Also Knuffingen is one of the oldest theme worlds at the Wunderland, besides Austria and Central Germany. The town counts inhabitants and is situated beautifully between the Harz Mountains and the Alps.
High above in the Alps of Austria
Austria and its Alps are, besides Central Germany and Knuffingen, one of the first three theme worlds of the Wunderland. On , the beautiful panorama of the Austrian Alps and all its details can be admired.
Hamburg: Home of Miniatur Wunderland
Hamburg is the hometown of Miniatur Wunderland and the largest, as well as the most densely populated, city of the entire Wunderland. In the hanseatic town live approximately 250 inhabitants per m².
Unlimited opportunities in the USA
The USA theme world was constructed from . Altogether it took to build all the little details and the special landscapes. It was a real challenge to compile the many facets of the USA on .
Scandinavia: Water - as far as you can see
Scandinavia is so far the biggest and technologically versatile theme world in Miniatur Wunderland. The North and Baltic Sea, filled with of real water, ist he centerpoint of this theme world. The ocean is sailed by many ships.
Switzerland & its Highlights
Stretching across more than six meters and two storeys, Switzerland is the theme world with the most fascinating landscape, and you can enjoy it from all angles.
Fly away at Knuffingen Airport
Knuffingen Airport, expanding over an area of and featuring realistic air traffic, surely is the most fascinating section of Wunderland from a technical point of view. Making this dream of our technicians come true took us almost six years and cost .
Italy: La Dolce Vita at Wunderland
The real life travel location Italy is a definite must see in Miniatur Wunderland as well. On a modelbuilding-masterpiece came to life. It took us six years of hard labor and in costs to finally open up the Italy section for our visitors.
Dream big in small Venice
Venice is definitely not breaking any records with its in size, but it is outstanding with regards to other aspects. The love for detail is a well-known quality in our model building colleagues and with this Italian lagoon city they have taken it to a brand new level.
Feel like visiting Wunderland now?