Doge's Palace
A magnificent building and impressive example of Wunderland model architecture.

But the Doge's Palace is not only one of the most important secular buildings of the Gothic period and a jewel of Venetian architecture. It is also a more than impressive example for model building at The Wunderland. We drew, milled, built and colored with enormous dexterity and craftsmanship. Even the smallest ornaments are designed down to the last detail; for example, the magnificent mosaics on the façade of the palace consist of more than 20,000 individually drawn little stones. It took 26 weeks of construction time for us to finally put the 2,700 individual parts together and form this magnificent building.
If you look to the Doge's Palace from St. Mark's Square, you will notice two reddish-colored pillars in the loggia. This was the place where the City's death sentences were publicly announced. The symbolic representation of the jurisprudence is not far from this memorial and visible to this day: Justitia, characteristically portrayed with sword and scroll, sits enthroned above a pillar, surrounded by two lions.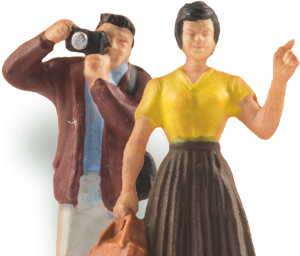 Straight to your digital mailbox
Easily receive news, offers & interesting information.