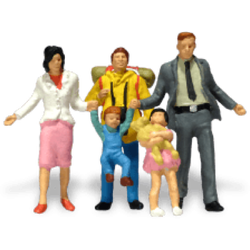 Guided Backstage Tours - A Look behind the Scenes
Various guided tours allow you to get a unique look behind Miniatur Wunderland. Our guides will take you on a 60 minutes tour into the fascinating world of model building, creativity, and engineering on a miniature scale. The tours can be joined by six persons max. (for families or bigger groups up to seven participants are possible).

The highlight: If you book a guided tour in addition to regular tickets, your are entitled to preferential admission without waiting at any time on the day of the tour.
You can stay in the Wunderland on the day of your visit until we close.
Northern Wunderland (Backstage Tour, Variant 1)
The Northern Wunderland Tour takes you through the USA, Scandinavia, Hamburg, Central Germany and Knuffingen sections, as well as the airport.
Southern Wunderland (Backstage Tour, Variant 2)
The Southern Wunderland Tour takes you through the Southern France, Monaco, Italy and Switzerland sections, as well as the airport.
In order not to disrupt the demanding work of the craftsmen, a visit to the workshops is not possible, even on a tour behind the scenes. You are however welcome to address your questions to the colleagues in the workshop area.
Limited accessibility
The tour leads through some maintenance corridors behind the model layout. These are usually only intended for our technicians and model builders and are therefore not barrier-free. There are also steep stairs and some wall openings need to be crossed in a stooped position.
Since so many guests wanted to get a look behind the scenes, we included these areas in the guided tours, what lead to some accessibility restrictions.
The stated restrictions/limitations do not apply to the publicly accessible areas of ​​the model railway exhibition.
Explanations in detail
Participation in a behind-the-scenes tour is restricted for:
People with

a large girth and pregnant women - the narrowest passage is just 30 cm wide between the wall and layout)
infants and young children
reduced mobility
claustrophobia (fear of confined spaces)
pacemakers that are not MRI* shielded
circulatory weakness

*Magnetic resonance imaging

Children

are welcome to participate from the age of 7

Most children are at least 120 cm tall at this age and can look on the exhibition layout independently to discover our big, small world.


There is a risk of injury for small children, as the layout is higher at the back and not enclosed, as on the public front side.

Lifting and carrying children is not possible in most areas behind the facility.

Animals

of all kinds, including assistance animals (no exceptions possible)

Items

This also includes:

Walking aids and wheelchairs
Prams, pushchairs, child carriers
large bags, backpacks, suitcases
Containers with liquids
Food and drinks of all kinds

Please leave these in the cloakroom or the lockers behind the Wunderland Bistro.
Audio System (better hearing and understanding)

We use a modern audio system to allow a better understanding of the guides' explanations in our often-noisy environment.

This requires headphones with a 3.5 mm jack plug (small headphone plug).

If you don't have matching headphones, you can borrow them before the beginning at the Guided Tour meeting point for a processing fee of € 1. All equipment, including the headphones, is cleaned and sanitized after every use.
Request for a guided backstage tour (if not available):
Your message has been sent.
We will respond to your inquiry as fast as possible, normally within 1-2 business days....
All the Best,
The Miniatur Wunderland Team
Special Events at Miniatur Wunderland