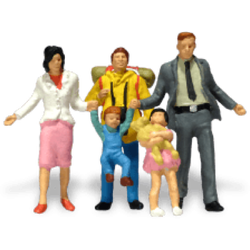 Guided Backstage Tours
Have you always wanted to understand how everything functions at our site and discover the many hidden details behind the layout? Then our guided tours are just the right thing for you!

Experience Miniatur Wunderland from a very special perspective and take a look behind the scenes.
By booking a guided backstage tour you have preferential admission. You also always need an admission ticket.
Guided Backstage Tours
If you always wanted to see the Wunderland from a different perspective, understand how everything works, and discover lots of hidden details, a guided tour is just the ticket for you.
Several times a day we offer guided tours behind Wunderland's scenes for a maximum of 6 persons per group. You can conveniently book a tour on this website.

Important information
Most of our tours are in German, but we try to offer English tours on a regular basis. If we do not offer an English tour on the day of your intended visit, please give us a call or use the contact form below. We'll try to arrange a tour for you.
Currently we are only offering the following tours in English: Behind The Scenes – 60 minutes
Please note, that the guided tour is an additional option for a regular visit. You always need regular admission tickets as well. The admission is not included in the price for the tour.
Note: The route for the tours behind the scenes is not barrier-free. More info under "important notes".
Our Guided Backstage Tours
Behind the Scenes - 60 minutes

Your guide will greet you at the tour service desk and equip you with our audio system before you enter the backstage area behind our USA section. Here, at one of Wunderland's largest staging yards, you will learn a short history of Wunderland's beginnings and how the concept has been developing over the years until today. Walking past the Grand Canyon and the bright lights of Las Vegas, your guide will explain how the trains and the train traffic control works in the large dimensions of Miniatur Wunderland. Besides the glistening snowy landscapes and the northern lights, the huge real water basin and the hidden ship staging areas and envisaged technology are certainly some of the highlights of the tour. Both Hamburg and Middle Germany are perfect examples of how Miniatur Wunderland has been developing and changing over time in order to keep up with new and advanced technological possibilities. Knuffingen, our first and most famous town, is the birth place of our car system.

Without doubt, this is the section that drew our guests in its spell from the beginning. Here you'll learn all about the technical details and functions of our 'intelligent' cars, and we'll show and explain how the hidden automatic charging station works. Of course, we save the best for last: What happens when the planes in Knuffingen Airport disappear behind the clouds? Where do they come from? What does the mechanism of the take-off and landing catapult and the airplane exchange levels look like? Here's where you get the answers and see for yourself. After 60 minutes the tour behind the scenes ends at Castle Neuschwanstein from where your guide will lead you back to the tour service desk. Walking past gorgeous landscapes and buildings, here seen from an entirely different perspective, your guide will explain the technologies in each section, disclose hidden details and tell you some of the stories behind our lovingly staged tiny Wunderlandians, and our own trials and triumphs along our journey of building Miniatur Wunderland.

Of course, you are welcome to ask your guide questions and take pictures or film during the tour!

Rates (additional to your admission for the Miniatur Wunderland):

Adults, 16 years and older: €
Children 7-15 years: €
(all in addition to the general admission ticket)

Currently bookable until


Group size: maximum 6 people.

Book a Guided Tour

Guided Tours Provence, Italy, Switzerland and Airport

From the meeting point we start directly behind the Provence, lavender fields create a holiday mood and impressively show the meticulousness with which our landscapes were lovingly designed.

Things are going haywire in Italy. Picturesque villages, cosmopolitan flair and huge staging yards provide deep insights, not only into railway technology, they also give a glimpse of the culture and history of Europe.

Passing picturesque vacation spots that evoke the feeling of "La Dolce Vita", Mount Vesuvius unleashes the elemental forces of nature, only to "appear" a blink of an eye later in Switzerland to look from the deepest valley to the highest peaks.

Finally, the tour reaches the airport with all its technical finesse. Inspired by the runway, the tour ends after 60 minutes at Neuschwanstein Castle.

During the entire tour, the guide will tell you many details about the concept, model construction, development and technology. It is welcome to be photographed and filmed!

Duration: 60 min.

Rates (additional to your admission for the Miniatur Wunderland):

Adults (16 and over): €
Children 7-15 years: €
Children up to 6 years: €


Group size: max. 6 people

Please make sure you choose the exact description "Provence, Italy, Swizerland and Airport"

This tour is also available in English language on demand.
Important notes
You can reserve or book the ticket directly on this website. Your reservation is binding, but you can cancel it up to 24 hours prior to the beginning of the tour, either online or by telephone. A cancellation link for will be set you along with your reservation confirmation via e-mail.
You should be at the Miniatur Wunderland at least 30 minutes prior to the start of your tour, unless the tour starts right after we open. If you have booked a tour with a guided tour gift voucher, you do not need to reserve or buy the general admission ticket in advance. You can buy your admission ticket on the day of your tour at our desk.
The backstage tours follow along our very narrow maintenance aisles. Therefore, unfortunately, we cannot allow persons weighing more than 120 kg (265 lbs) behind the scenes. The determining factor in this restriction is the body girth. For example, a person of 1.6 meters (5'3'') height and 120 kg (265 lbs) weight will encounter serious space problems, a very tall and/or well-trained person with the same weight might not. Unfortunately, restrictions may also apply to people with limited mobility. Persons with pacemakers cannot take part on a small part of the tour and will get rerouted because of a magnetic field that has to be passed. Our staff reserves the right to assess a person's ability to participate in the tour. Please trust us, that this will be in your best interest.
Request for a guided backstage tour (if not available):
Your message has been sent.
We will respond to your inquiry as fast as possible, normally within 1-2 business days....
All the Best,
The Miniatur Wunderland Team
Special Events at Miniatur Wunderland