We are OPEN!
Dear guests,
we are finally open again, tickets can be booked without any risk, you can cancel or rebook your tickets before your visit! Please understand, that cancellations after your bookded date are not possible.
You can read in detail here what such a visit to us looks like in times of Covid-19.
The most important current rules in brief:
Mask requirement: During the visit, all visitors (from 7 years of age) must wear a medical mask (FFP2 or FFP3 without valve, KN95 or surgical mask).
Test evidence: For a visit you need a negative corona test (rapid test from a test center not older than 24 hours, PCR test not older than 48 hours) or alternatively a vaccination certificate (EU approved vaccine, last vaccination at least 14 days ago) or one Detection of genes (positive PCR test, at least 28 days and max. 6 months old).
COVID-19 test center: You can have yourself tested free of charge every day between 8:00 a.m. and 6:00 p.m. here in the Speicherstadt in a public DRK test center, which is located very close to our entrance.
Due to our limited capacity due to the corona, we can unfortunately only let in a small part of the other visitors. We therefore recommend booking a ticket in advance. These are currently in high demand. You can come by spontaneously at any time, but you may have to expect long waiting times on weekends (Friday-Sunday) and public holidays, as well as during the holidays. Therefore, please inform yourself in advance about the expected waiting time.
All tickets booked remain valid as normal. If you bought tickets for the period between March 16th up to and including May 19th, 2020 or November 2nd, 2020 up to and including May 26th, 2021, these have not expired. Unfortunately, our special events "Wunderland At Night" and "Culinary Trip around the World" have to be canceled until further notice, we will only set new dates again when we are sure that they can take place. You can find all information in our Covid-19 FAQ.
Red Cross COVID-19 Test Center Speicherstadt
You don't need to run to a test center from May 26th. You can have yourself tested free of charge between 8:00 a.m. and 6:00 p.m. here in the Speicherstadt in a public DRK test center, which is located very close to our entrance. An appointment booking is essential, as otherwise long waiting times can occur. (in case, you can also do without an appointment, but then you may have to expect long waiting times). Please book an appointment for EVERY person to be tested.
Select the following test center on the login page:
DRK Hamburg-Harburg e.V.
Kehrwieder 2 (Speicherstadt)
20457 Hamburg
The appointments are offered there in 15 minute time slots, your test takes place within these 15 minutes and several people can always register for a time slot, which can lead to short waiting times here on site. Please only be there on time and not ahead of time.
If you have booked tickets for a time after 6 p.m., you can take the test earlier.
The largest Model Railway in the World in Numbers
The Miniatur Wunderland is hard to describe in words, so we have summarized the most important facts in numbers:












Our Worlds
Ever since the year 2000 the Miniatur Wunderland has been steadily growing. Most currently our . world was opened on . Further theme worlds have been planned until 2028. From the very beginning we have kept our construction sites and our workshops open for our visitors. We wanted to make sure that you would always have the chance to watch our model builders and technicians while they were working and see how the landscapes were coming along. Here you will find pictures and information about the already built worlds.
Current Offers for You
Whether with the family, with a good friend or as a group: If you have a further journey to Hamburg, you will find in our travel offers the all-round package including travel and accommodation at fair prices.
Find out what drives the Wunderland
The Miniatur Wunderland is without doubt a 'wonder' not only because of its landscape and surface area, but also due to the technology used to under-pin the exhibit. Gerrit Braun and the model-making team have pushed the limits of model construction, with a large part of the exhibit custom-designed and built.
Special Events
If you would like to visit the Wunderland without big crowds and in a relaxing atmosphere, we would like to recommend our four special evening events to you. Each unique and special in it's own way. We are sure that there is the right highlight for everyone.
That's what our Visitors say
Sign up for our Newsletter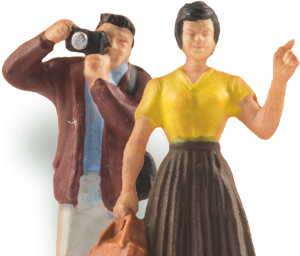 Straight to your digital mailbox
Easily receive news, offers & interesting information.