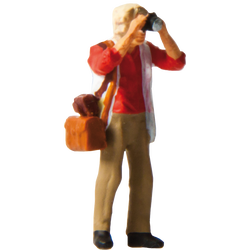 Big Tubs & Small Trains
This tour combines two highlights of Hamburg: Discover Europes' largest inland port on a relaxed 1-hour cruise as the sun sets over the city, and afterwards explore the world's largest model railway.
Please note: All information and explanation aboard the barge is in German, there is NO English translation.

Two of Hamburg's "must-sees" at a special rate of €! Usually, a harbour boat trip costs about 20.00 € and the admission fee to Wunderland is €, so you'll save about 10.00 € with this special package – AND you avoid the usual waiting line on busy days!
It is a fact that sea air makes you hungry, so how about enjoying our "grounded" menu: A giant Currywurst sausage with French fries, ketchup/mayonnaise, and a 0.4 l soft drink at a special price of 8,00 € (you save 20%)!

The "Big Tubs & Small Trains" event takes place primarily in vacation times and on public holiday weekends. Please check the dates and departure times below.
Information for wheelchair users:
Unfortunately, this tour is not fully accessible. Getting down the pier for the boat trip usually is no problem, but there are a couple of rather narrow stairs to be mastered in order to board the barge. Assistance unfortunately can't be provided there. However, the Miniatur Wunderland is fully accessible.