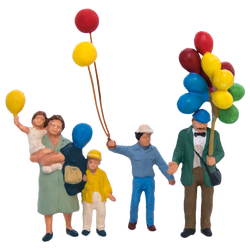 Fun Fair
The fair in Central Germany not only makes the eyes of all adrenalin junkies and cotton candy lovers among our little Wunderlandians shine. Also our visitors can dive into the colourful hustle and bustle and into a sea of lights at night.
Among our 289,410 small Wunderland inhabitants there are 9,000 particularly lucky ones. Namely those who are allowed to spend their whole life at the Wunderland fun fair. On 8 m² lottery booths, rides and delicious treats are lined up in a row and thus provide for an exuberant atmosphere among the miniature guests. But the colourful and flashing spectacle also puts a big smile on the faces of the Wunderland guests, because nowhere else is the density of push buttons and LEDs greater. And so you don't even know where to look first in this superlative fairground. Because while the log cars are still whirling down the whitewater course and the Ferris wheel is still spinning, the scenery sinks into a spectacular sea of lights made of 100,000 LEDs at nightfall.
A miracle of technology
The fact that our fair has become the opposite of a relaxing still life is especially the result of the creative minds from the Wunderland technical workshop. For more than a year they mechanized rides, illuminated signs, invented attractions and tried to trick the laws of gravity. It was also a special challenge to make sure that the rides withstand the continuous operation of Miniatur Wunderland.
Because the commercially available products and kits were not designed to deliver top performance 365 days a year. That is why the Wunderland rides are entirely self-built and have to withstand the intensive riding behaviour of the Wunderland fairground visitors with special motors, ball bearings and metal gears. This path was paved with feelings of success and setbacks, exuberant mood and nervousness. We have recorded the ups and downs of these feelings in special episodes on our YouTube-Channel.
The devil's in the detail
People who know the Wunderland know: We mean business when it comes to the details. And so it is no surprise that we leave nothing to chance, not even at the fair. In the planning of the new section we also thought of escape and rescue routes, a sufficient number of toilets, fire safety regulations and proper waste disposal. Even the width of the lane was measured exactly so that - in accordance with regulations - two miniature fire engines can operate side by side.
The only thing of concern would probably be a technical inspection because in the process of building the rides we do not want to limit our imagination with such annoying things as gravity and physics.
Facts & Figures about the Fun Fair
04/2019 - 06/2020

Construction Period


750,000 Euros

Construction Costs
June 30th, 2020

Opening Date

24,500 hours

Working Hours




150

Attractions, Rides & Food Stands


250

Simultaneously controllable movements


Take a look at our amazing Fun Fair