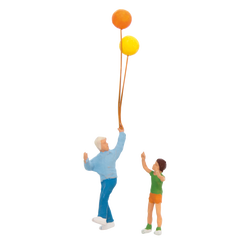 Hotels & Sales
Of course it is possible for you to sell tickets for the Miniatur Wunderland. We have developed a system which enables you to sell our tickets to your customers.
The system keeps admission gaps open, even when there are no more tickets available on location or the internet, because we have kept aside a small contingency for our business partners and hotels. It can be purchased via our Advanced Booking System.

You also receive a small discount on these tickets. Our Advanced Booking System is available online and only for hotels and selected partners. If you are interested in offering this service to your customers please do not hesitate to contact us.
This is how it works:
Write us via the contact form, please fill in all the spaces.
We will validate your request and get in touch with you within a few days.
You will receive access information for our Advanced Booking Service and instructions of use. You can immediately start selling our tickets.
Travel agents please note: Our tickets are available via Eventim, HHT, DERTour, Ticketmaster, Ameropa and TUI.
Your message has been sent.
We will respond to your inquiry as fast as possible, normally within 1-2 business days....
All the Best,
The Miniatur Wunderland Team