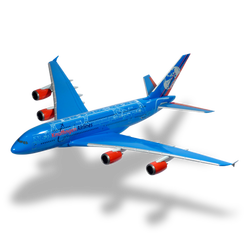 The World from Above
On the way across our bridge, visitors have the opportunity to travel once around the world from a bird's eye view. In the special exhibition "The World from Above", the most beautiful places in the world can be admired from the perspective of an airplane. A high-speed train route runs through the colorful landscape, connecting Europe with South America along the way.
An Atlantic crossing in seconds
In July 2020, after 14 years of planning, the time had finally come. One of the largest cranes in Europe lifted a 25-meter-long pedestrian bridge at a height of 40 meters above the Miniatur Wunderland's building, thus giving the starting signal for the future of the Wunderland. Subsequently, the glass steel construction was attached to the opposite building at a height of about 16 meters.
The bridge connected the new building and thus built a bridge between the old Wunderland and the new world. New spectacular sections can now be created on the additional 3,000 square meters. The first part of this is Rio de Janeiro. We wouldn't be Wunderland if we didn't connect the new world in miniature with the old sections. And so the idea of the "World from Above" was born.

Due to the position of the model at foot level and the resulting completely new perspective of the viewer on the model, we decided to design the crossing from France to Rio as an imaginative route with a focus on the most beautiful landscapes of our earth.
The double-track high-speed route starts in the futuristic-looking long-distance station of Provence. The trains then rush past colorful fields of tulips under fields of lavender before the line passes through a tunnel under the Atlantic Ocean. A fully loaded container ship crosses the track at the water's surface and only just passes an iceberg drifting behind it. Here and there, the model builders have integrated surprises into the landscape; a flock of sheep appears at second glance to be a wolf, or a school of fish pursued by a shark in a tropical atoll can be recognized as a yin-yang symbol.
Out of the tunnel, the track emerges again to the surface at steep rice fields. In a dry desert we see through the train window a caravan passing the pyramids, before it goes through the dense rain forest into the storage building to South America.
Well then, off to the new world!
Facts & Figures on the "World from Above"
03/2021 - 12/2021
Construction Period


2.900 Stunden
Construction Time






The highlights of our special exhibition