Knuffingen Airport
Knuffingen Airport, expanding over an area of  and featuring realistic air traffic, surely is the most fascinating section of Wunderland from a technical point of view. Making this dream of our technicians come true took us almost six years and cost .
LSG Sky Chefs are managing the board service for this airplane.
Embedded between Knuffingen and Switzerland, Wunderland's eighth extension arose: a passenger airport. After almost six years of construction, it was inaugurated on . The development of the airport started back in June 2005. In 2008, we completed the planning stage and worked out the final construction plan. On August 22, 2008, the plan was laid on the base frame of the new section, therewith officially initiating the construction phase right in front of our visitors' eyes.
The impressive airport is a highlight of Wunderland, not only for aviation and technology freaks. 45 different aircrafts, from A380 to Cessna, run self-dependently at the airport. Upon arriving at the gates, they are steered back by push-back vehicles and taxi to the runway by themselves. There, they accelerate and take off. Each aircraft is equipped with original lights and the turbines emit a realistic sound, at least during take-off. (Otherwise, the noise would be almost unbearable.)
Facts & Figures about Knuffingen Airport
Highlights at the Airport and in Bavaria
An Air Berlin plane is taking off.
There's only a little time gap between landing and the next take-off. The loading of luggage, refueling, and cleaning of the cabins is carried out under high pressure.
The airport fire brigade watches the landing of the space shuttle closely.
Unterhalb des Radarturms steht eine Statur für die Mitarbeiter der Lufthansa Technik.
A Royal Jordanian airplane is being processed at Knuffingen Airport.
There're not only large planes being serviced at Knuffingen Airport. You also find small sports airplanes like this one.
The subway at Knuffingen Airport transports passengers into the city fast.
With almost 30,000,000 miniature passengers annually, you need many taxis.
Even in Wunderland the travellers have to wait in line at the check-in counters.
The airport fire brigade arrives as fast as lightening.
A little race between cargo crates from all over the world.
Even at night there's a lot of traffic at Airport Knuffingen. Approximately 4,500 cars are set here.
Two planes are getting prepared for their next flight. Another plane is on the way to its parking position.
Having a cup of coffee before departure, reuniting with a friend after a long journey or lost luggage. All these little scenes from everyday life play out at Knuffingen Airport.
A Condor plane taking off at Knuffingen Airport
Layout Map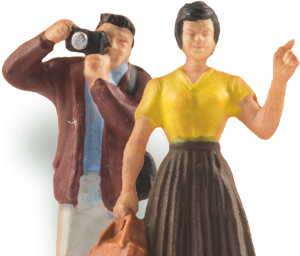 Straight to your digital mailbox
Easily receive news, offers & interesting information.