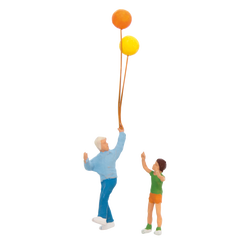 Everything regarding our tickets
There are many ways to purchase a ticket for the Wunderland. You may buy tickets online in advance or make an online reservation. You may also purchase vouchers and receive them via postal service. In addition we sell tickets for special events as well as for other activities in our beautiful city of Hamburg.
Buying tickets online
Throughout the year there are several days, when more people want to enter the Miniatur Wunderland than we can accommodate. Therefore we regularly have what we call "waiting time". In order to avoid waiting time you can buy your ticket in advance. This enables you to enter the Wunderland conveniently and without the wait. Tickets are always bound to a time window for entry, which you may choose to your convenience. Of course you may drop by spontaneously, should your preferred time window be sold out or should you not want to make a commitment in advance. We always keep an allotment of tickets for our spontaneous visitors, but these could come with waiting time. We therefore recommend to check our rather accurate waiting time prognosis.
Money saving tipp: On many days you will find discount tickets, either very early in the morning or late at night. If you are flexible with your visiting hours check out the different dates, discounts may vary from day to day.
Vouchers
Of course you may give Wunderland tickets away as a gift. Either you choose a design and comfortably print out the voucher at home or you choose a hard ticket in our online shop, which will then be sent to you by post. Our vouchers are not time bound and therefore valid on any given day. In order to avoid waiting time, the vouchers can be activated online in advance.
Naturally we also have vouchers for our popular special events Wunderland at Night, Big Tubs & Small Trains and Culinary Trip around the World. You may purchase these tickets via our online shop.
Special Events
Should you want to experience the Wunderland after our busy opening hours, we recommend our special events. We offer three different event formats for you to experience the Wunderland exclusively.
At Big Tubs & Small Trains we combine two Hamburg highlights into one event. Normally a big harbor boat trip will cost you between 18 and 21 Euros and the entry fee for the Wunderland costs Euros. The price for the combination event is Euros.
Our classic is the event Wunderland at Night. It has been very popular for the past ten years. On these nights we only admit a very limited amount of visitors in order to enjoy the exhibition in an exclusive setting with included insight behind the scenes of the exhibition.
On our popular Culinary Trip around the World you will combine your visit to the Wunderland with delicious food and beverages from the different regions depicted in our exhibition. We recommend making your reservation early on since the event is usually sold out quickly.
Tickets for other Hamburg activities
On our website we have some additional recommendations for you, should you want to experience more of Hamburg during your stay. We are in friendly cooperation with other Hamburg tourism ventures. Therefore we sometimes get exclusive ticket deals and are happy to share these with you. Our tickets for harbor boat trips can be validated anytime with all of the following barge companies: Meyer, Ehlers, Abicht, Bülow and Max Jens. In addition they are also at a reduced rate in comparison to most of the barge companies at the harbor. We also provide tickets at a reduced rate for sightseeing bus tours. You may purchase these tickets online alongside your tickets for the Wunderland or on location in our shop.