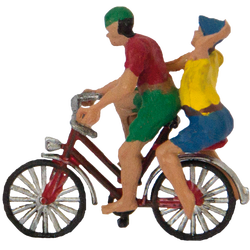 Directions
Many roads lead to Wunderland: The Miniatur Wunderland is centrally located in Hamburg's Speicherstadt and can easily be reached by bike, train, bus or car.
Miniatur Wunderland is easy to reach
The Miniatur Wunderland is centrally located in the Speicherstadt (the historic ware house district) of Hamburg. It can be reached conveniently by bike, metro, bus and car.
The Speicherstadt lies in the heart of Hamburg, between Rathaus (town hall) and the famous Elbphilharmonie. Right in front of the Miniatur Wunderland stops bus line 6, the nearest subway station is called Baumwall (U3) an the next tram station is Stadthausbrücke (S1 & S3)
In front of our building, there's also a StadtRAD-Station (city bike station) and a parking lot.
You will find a map of the surroundings in the section "Parking" on this page.
Our exact address is:
Miniatur Wunderland Hamburg
Kehrwieder 2
20457 Hamburg – Speicherstadt
Train service interruption on line U3 until March 27th, 2022
Due to construction work between "Baumwall" and "Hauptbahnhof Süd (Central Station)" until March 27th, 2022 the train service is interrupted.

There will be NO bus replacement. Use alternatively the bus line 6 to "Auf dem Sande/Speicherstadt", bus line 2 direction "Schenefeld" exit at "Am Sandtorkai" or use the urban trains (S1 or S3) to "Landungsbrücken" and change there to the line U3 to "Baumwall".

You find further information on the website of the Hamburger Hochbahn.
The official information you find here (German only).
Please use the connections of the local public transport organisation.

Public Transportation

The Miniatur Wunderland is perfectly connected to the public tranportation system, called HVV, so you can reach us by Bus, U-Bahn (subway) or S-Bahn (urban railway).

SUBWAY AND URBAN RAILWAY STATIONS IN THE VICINITY:

Finding the best connection is easy via the website of the HVV. We already inserted the destination. So all you have to do is fill in your starting point and the system will show you the fastest route: Go to the HVV-time table.

Subway and urban railway plan download (PDF)

Parking

44 parking spaces have been reserved directly in front of the Miniatur Wunderland building. The parking fee is € per hour. This helps us to cover the costs at least to a small extent. Please note that during peak times, we can't guarantee that there will always be parking spaces available. Below, we listed some alternatives, even though they are more expensive than our parking lot. You will surely find some parking space in the surrounding area, but it might take a while and possibly it will not be free of charge. That's why we recommend our visitors to use the public transportation system.

Parking Garages


Parking for visitors with disabilities


Right at the bridge "Auf dem Sande", there is a parking space for disabled visitors (see map).

Mobile homes


Unfortunately, there are no camp sites for mobile homes in the vicinity of the Miniatur Wunderland anymore. The closest possibilities would be in Wilhelmsburg (Finkenrieker Hauptdeich 5, +49 40 1577 4505514), in Blankenese (Falkensteiner Ufer 101, +49 40 812949), in Osdorf (Blomkamp 47, +49 40 8007386) or in Schnelsen-Nord (Wunderbrunnen 2, +49 40 55942257).

Parking on the parking lot right in front of the Wunderland is NOT permitted for mobile homes. That's why we listed the maximum height allowed for the parking garages above.

StadtRAD & Car-Sharing

Nowadays, it's no problem to get around Hamburg without a car on your own. You can rent cars, bikes or scooters everywhere. If the weather is nice, we recommend that you hire a bike from StadtRAD.

There are 148 hiring/returning points throughout Hamburg, one of them (named "Auf dem Sande") directly in front of the Miniatur Wunderland. The first 30 minutes are free of charge. Hiring a bike is easily done at every hiring station by smart phone, debit or credit card. It is the best way to exlore the city, the Speicherstadt and the Miniature Wunderland, especially in sunny weather. For further information, please visit the website of StadtRAD.

Another option would be car-sharing: Hamburg has a large car-sharing company by now, Share Now (Joint Venture of DriveNow and car2go). Their vehicles are to be found at almost every corner. If you want to use the service, you are requested to register with the provider first. Once that's done, you can simply find and book the cars via smartphone.

Walking

The Miniature Wunderland is centrally located in the famous historic Speicherstadt. If you have enough time, the best way to reach us would be by foot. The walk is really worth it! It only takes about 15 minutes from the city center, town hall and Alster river to the Speicherstadt. Or if you come from the Landungsbrücken, you can walk for about 20 minutes along the Elbe river and get a great view of the Elbphilharmonie en route. (Attention: At the moment, there is quite a bit of construction along the promenade, so detours might be necessary.) Also, the HafenCity is right round the corner and can be reached within just a few minutes.

The Speicherstadt is the cultural and touristic heart of Hamburg. No matter what direction you start from, it can be reached easily and on beautiful routes by foot. And it is the most environment-friendly option. :)