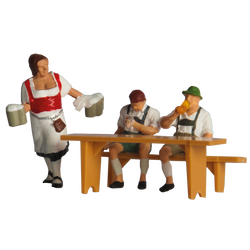 Service
Happy Guests = Happy Wunderlanders.
Almost every company emphasizes its focus on service and customer orientation. However, reality often looks quite different. We hope that we manage to meet your expectations, starting with the entrance fees and ending with small extras.
We don't want to make any great promises here, but just give you an idea of the variety of services we offer. Best come and see for yourself! We hope that you enter Wunderland with a smile on your lips and leave it laughing. If you have any ideas for improvements, please feel free to let us know.

By the way, there are three questions we've been asked many times and which we can answer affirmatively: Yes, the exhibition area is fully air conditioned, so we recommend that you bring a light sweater or jacket. And yes, we do have a coat check, as well as lockers. And one more time yes, taking pictures or videos for private purposes is permitted in Miniatur Wunderland.
Following, you'll find an overview of our services:
Photo / Video

Taking pictures or videos for private purposes is not only permitted in Miniatur Wunderland, but highly desired. There are so many motives and perspectives that it is impossible for us to take pictures of everything. We are happy about every picture and video taken and encourage you to share them with your friends and on Facebook, Twitter, Instagram, Pinterest etc. with our hashtag #miwula.

You can easily recharge your mobile phone, digital camera or camcorder in Miniature Wunderland. Charging devices and power sockets are located on the 4th floor, next to the control center. Just follow the signs marked with the word "LEITSTAND". Batteries may be purchased in our shop.

Waiting Line Service

On weekends, public holidays and during school vacation, there are often waiting times. This is due to more visitors wanting to visit Miniatur Wunderland than the exhibition space can actually comfortably hold at the same time. Therefore, we suggest that you either purchase or reserve a ticket with an allocated time slot in advance, or that you visit us early in the morning or later in the evening. Of course, you can come and see Miniatur Wunderland without reservation at any time, but please be prepared that you might have to wait. During this time, we try to make you feel as comfortable as possible. We have a nice waiting area with the following amenities for you:

fully air-conditioned
many seating areas
toilets
selected free soft drinks
further drinks and snacks for purchase at reasonable prices
monitors showing your remaining waiting time

It is very important to us that you enter the exhibition with a smile on your face. Therefore, we strive to entertain you best as we can while waiting. But, truth be told: Nobody really likes to wait. We thus recommend you take a look at our waiting time forecast or use our online reservation system in order to avoid waiting times.

Children

Children of any age are very welcome at Miniatur Wunderland! In order to make their visit even more exciting, we have come up with some surprises.

Waiting can be exhausting, especially for children. This is why we offer free soft drinks while waiting. Also, there is a small play corner or you can pass the time with card and board games at the tables.

The next surprise is at the cash desk: All children under 1 meter in height get free entrance when accompanied by their parents.

Our newly renovated bistro area includes a play corner with many toys and a big play castle.

And we even thought about our smallest guests: There's a baby changing room where you'll find diapers and baby wipes for free. Baby food can be heated in the microwave in the back area of the bistro.

You are welcome to celebrate your child's birthday at Miniatur Wunderland. However, we do not offer any special programs.

Mother & Child

As we've already mentioned, children of any age are very welcome at Miniatur Wunderland and family is very important to us! We want you and your children to have a carefree time at our exhibition and to feel comfortable in every aspect.

Beside a play corner, a kids' cinema, and a small railway layout, where your little ones can steer the trains themselves, we didn't forget about our smallest guests. There's a baby changing room where you'll find diapers and baby wipes for free. Baby food can be heated in the microwave in the bistro area. On the right hand side of the microwave, a small area allows you some privacy for nursing.

Open workshops

We have a special highlight for our guests: You're welcome to visit our modellers and technicians in their workshops and construction sites! See for yourself how new landscapes, sceneries, buildings and push-button actions come to life. Please feel free to ask any questions you might have. This might keep us from work for a while, but we believe that it gives you a better understanding of the love, precision and brain power that we put into every square meter of Wunderland. Here are some numbers to illustrate our efforts:

Working hours:
Maintenance hours:
Construction costs:

The open workshops and construction sites of the electronic and mechatronic engineers and the modellers are located on the 3rd floor. As maintenance and repair work is needed at any time on the layout als well, you may also see our technicians and modellers in action. At the moment we are working on our newest section, Italy. Come and experience the creation of this small new world!

Accessibility

Important note: We offer exclusive evenings for wheelchair users. Please see below for further information.


Can wheelchair users visit Miniatur Wunderland?
Our entire exhibition is accessible, so you may get around easily. We would like to point out some details in advance, so that you can have a relaxed, enjoyable and unforgettable time at Wunderland.

Parking spaces for disabled visitors
In addition to the parking lot directly in front of Miniatur Wunderland, there are two parking spaces for visitors with disabilities at the bridge "Auf dem Sande". In addition, you will find a number of parking garages in the vicinity.

For entering Miniatur Wunderland, please use our main entrance. There is a lift to overcome the first four steps. In order to use it, please send someone of your party to our cash desk on the 2nd floor, and an employee will unlock the lift for you. If you are visiting Wunderland alone, please call the phone number indicated on the lift (). One of our employees will immediately come down. Please also let our staff know when you are leaving Miniatur Wunderland, and someone will accomany you downstairs. Of course, if you have questions or need help during your visit, we are happy to assist you at any time. Wheelchair users with e-wheelchairs please note, that the wheelchairlift is only able to carry a maximum of 300 kg (660 lb, wheelchair including person).


Elevator
Inside Wunderland, an elevator provides access from the entrance floor, where the shop and the bistro are located, to all exhibition floors. The elevator and fully accessible toilets are displayed on the map that you will receive at the cash desk upon entering Wunderland.

Wheelchair Mondays – our service for disabled visitors
It is difficult for wheelchair users to enjoy the exhibition on well-attended days. It can be quite crowded and spaces close to the railing, that would allow a good view, are scarce. Therefore, we offer a special service for wheelchair users and people with disabilities: About every 4-8 weeks, usually on Mondays, we host an evening called "Wheelchair Mondays". On those nights you can enjoy the Wunderland stress-free (of course, together with a companion).

For dates and further information please click here.

Security

Your safety is important to us!
The safety of our visitors is of utmost importance to us and we strive to make you feel as safe as possible in many different aspects.

Fire protection
The entire premises are equipped with a sprinkler system, out of which alone 250 sprinkler heads are located directly above the layout area. The sprinklers are activated at a temperature of 75°C.

In order to prevent fire to break out in the first place, fire and smoke detectors are installed throughout the building, which already react at very low smoke formation (respectively at unusal heat in the kitchen or smoking area.) In addition, there are another 250 highly sensitive smoke detectors situated on and underneath the layout area. In the layout space where the Wunderland fire fighters have to extinguish a small fire, the smoke detectors are specifically directed upwards so that no false alarm is triggered. Additionally, we have many more fire extinguishers than are requested by law.

In case of smoke or fire on one of the four floors or in the attic, our network of three in-house fire alarm centers will coordinate all actions required. A fire alarm within the building will go off and the fire brigade will be contacted immediately. Test alarms and evacuations are practiced on a regular basis so that we are prepared as best as we can in case of need.

Internal alarm
Alarm can be manually triggered by our staff. On each computer we installed a key as an emergency button which offers a choice of four categories:

Fire: all employees of the Miniatur Wunderland are trained for using the fire extinguishers (CO2 in the exhibition area and special extinguishers in the kitchen) and other extinguishing devices. A further 20 employees (among them our guides especially) took a proper fire safety course at the state fire department school of Hamburg. At any time, at least two employees trained for emergencies are on site and can be ready for action within 10 to 30 seconds.

Evacuation: 60 staff members of Wunderland had a special evacuation training, in order to help visitors leave the building through the 10 designated evacuation routes, marked by pictograms. On the 3rd and 4th floor of the exhibition, you will find an emergency exit every 20 meters. Moreover, Miniatur Wunderland is directly linked with the Hamburg's Civil Protection Agency and will be informed immediately in case of flood alert, storm etc. so that our staff has sufficient time to escort our visitors safely out of the historic ware house district (Steicherstadt).

Technical emergency (e.g. water-pipe burst, blown fuse): In case of a technical emergency, such as a power failure, an emergency generator will ensure that emergency lamps stay turned on for another three hours. That way illumination of the pictograms which lead to the emergency exits is ensured, and visitors can find their way through the whole site.

Medical emergency: The first seconds after an accident or emergency can be crucial. That is not only true for street traffic or accidents at home, but also at work or for medical emergencies at Miniatur Wunderland. Therefore, workers' insurance associations request that companies get some of their staff members trained as first aid helpers. They take classes, just like driving students, in first aid in order to take the important steps in case of emergency. At Wunderland, paramedics are always present. In addition, many of our employees regularly take part in first aid classes and evening classes tailored for Wunderland's needs. They learn to detect emergencies and take the necessary and effective steps in first aid.

Wunderland is well equipped with emergency material and devices that our staff learn to use knowledgeably in their classes. On top of the standard equipment, defibrillators (AED, see photo) have been purchased for life-threatening (heart) emergencies. When needed, they are handled by especially trained employees. Due to their high motivation and their interest in first aid, more than 40 employees have been trained by now, which are much more than the required 5% of employees.

Not only our team, but also our visitors benefit from those well-trained first aid helpers. What began as a mandatory training really has turned out to be an extra service for our guests. Visitors of all ages have benefitted from of our first aid services. Fainting, circulation problems, small injuries and psychological care for family members or friends are just some of the incidents that we deal with. We are happy if we can help guests to recover quickly so that they can continue their visit. However, even severe cases like heart attacks have been handled competently and we were able to transfer them safely to doctors or hospitals.

Alas, there's one thing we can't help: the bitter tears shed by our smallest guests when it's time to leave. But often a parent's promise to return to Wunderland soon will work miracles. ;-)