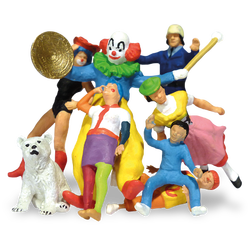 Group Offers
Groups of 15 or more are entitled to special prices for their visit at Miniatur Wunderland. In addition we offer exclusive travel packages including accomodation.
Important: Reservation in advance is mandatory.
Registration
You would like to visit Wunderland with 15 or more people? Then please register as a group in advance so that you can benefit from our group discount and get preferred entrance. It is important that groups be booked in advance!
You are a group of people (minimum 15 persons) and plan on visiting the Wunderland together? The form below allows you to register your group very easily. Please tell us the exact date and time of your visit and the size of your group. By registering in advance, you will avoid waiting time at Wunderland.
Your group is factored in for the number of people allowed in Wunderland at the same time, so it has an influence on other visitors' waiting time, too. Therefore, we kindly ask you to arrive on schedule. Please submit a mobile phone number where we can reach you on the day of your visit. If the time or day of your booking has to be changed, please let us know!
The reservation request can only be made online.

Our admission
Admission EUR 20.00
Admission under 16 years EUR 12.50
Admission Discounted EUR 17.00
Discount available for:

Pupils/Students from 16 years
Senior Citizens (from 65 years)
Handicapped/Disabled Persons and accompanying persons, if marked in the handicapped/disabled ID card

Wheelchairusers EUR 5.00
School groups per student/pupil: EUR 12.50
(Students up to and including 18 years of age, 1 teacher free for every 10 paying students, non-transferable)
Cancellations:
Should you have to cancel your group visit, please notify us no later than 48 hours before the date of the visit so that we can pass on the card contingents that have become available.
Your message has been sent.
We will respond to your inquiry as fast as possible, normally within 1-2 business days....
All the Best,
The Miniatur Wunderland Team