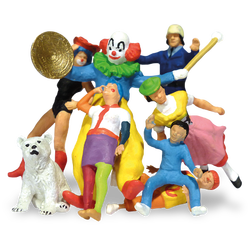 Group Offers
Groups of 15 or more are entitled to special prices for their visit at Miniatur Wunderland. In addition we offer exclusive travel packages including accomodation.
Important: Reservation in advance is mandatory.
COVID-19 Information
Please take even note of our generel information about your
Registration
You would like to visit Wunderland with more than 15 people? Then please register as a group in advance so that you can benefit from our group discount and get preferred entrance. It is important that groups be booked in advance!
You are a group of people (minimum 15 persons) and plan on visiting the Wunderland together? The form below allows you to register your group very easily. Please tell us the exact date and time of your visit and the size of your group. By registering in advance, you will avoid waiting time at Wunderland.
Your group is factored in for the number of people allowed in Wunderland at the same time, so it has an influence on other visitors' waiting time, too. Therefore, we kindly ask you to arrive on schedule. Please submit a mobile phone number where we can reach you on the day of your visit. If the time or day of your booking has to be changed, please let us know!
The reservation request can only be made online.

Group visit during Corona/COVID-19-times (special regulations)
We are very pleased that you want to visit us with a group despite this complex time.
At many times it will not be possible to accept groups. Send us your preferred time and we will see what is possible or offer you alternatives. Group visits in the mornings are currently not possible, from 1.30 p.m. we can see what's going on.


Currently, 2G applies in Wunderland (only vaccinated or convalescent or children under 16 years of age). The mask requirement still applies!
So that the guests are well distributed and there are as few traffic jams as possible, we can currently only admit groups in blocks of 10-20. So you have to split up your group in advance. Small groups for 10 minutes each. If you want to visit us with 50 people, for example, then one possibility would look like this, depending on availability:
1:10 p.m.: Group 1 (10 people)
1:20 p.m.: Group 2 (10 people)
1.30 p.m.: Group 3 (10 people)
1:40 p.m.: Group 4 (10 people)
1:50 p.m.: Group 5 (10 people)
Your guests are required to enter the building in these groups only. It is currently important to avoid that guests wait in the entrance area. Therefore, the groups that are not yet on would have to wait in front of the building.
Our admission is as follows:
Admission EUR 20.00
Admission under 16 years EUR 12.50
Admission Discounted EUR 17.00
Discount available for:

Pupils/Students from 16 years
Senior Citizens (from 65 years)
Handicapped/Disabled Persons and accompanying persons, if marked in the handicapped/disabled ID card
Wheelchairusers

School groups per student/pupil: EUR 12.50
(Students up to and including 18 years of age, 1 teacher free for every 10 paying students, non-transferable)
Cancellations:
Should you have to cancel your group visit, please notify us no later than 48 hours before the date of the visit so that we can pass on the card contingents that have become available.
Corona/COVID-19 rules:
The COVID-19 rules (distance, hand hygiene etc.) also applies to us, of course. Every visitor needs as well a negative COVID-19 rapid test (not older than 24 hours) or PCR-Test (not older than 48 h, tests only on 3G-days) or a certificate of vaccinacion (the last vaccination has to be 14 days ago). In Wunderland we have a medical mask requirement for every visitor from 7 years of age, without exception, not even with a certificate. Only children between 7 and 13 are allowede to wear an all-day-mask, but a medical one is recommended. In addition, every visitor should keep the distance requirement of 1.5m. You can find detailed information here.
Name lists:
Due to the current Hamburg Corona Regulation, it is also important that you send us a list of names with the following guest data when you visit in the future.
First name, last name, street, zip code, place of residence, telephone
You can either download a form here or use your own list, which must contain at least the data listed here.
Download Excel sheet to fill out on the PC
Download PDF to print out and fill in manually
Thank you for your understanding.
Your message has been sent.
We will respond to your inquiry as fast as possible, normally within 1-2 business days....
All the Best,
The Miniatur Wunderland Team