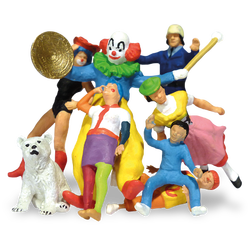 Group Offers
Groups of 15 or more are entitled to special prices for their visit at Miniatur Wunderland. In addition we offer exclusive travel packages including accomodation.
Important: Reservation in advance is mandatory.
Registration
You would like to visit Wunderland with more than 15 people? Then please register as a group in advance so that you can benefit from our group discount and get preferred entrance. It is important that groups be booked in advance!
You are a group of people (minimum 15 persons) and plan on visiting the Wunderland together? The form below allows you to register your group very easily. Please tell us the exact date and time of your visit and the size of your group. By registering in advance, you will avoid waiting time at Wunderland.
Your group is factored in for the number of people allowed in Wunderland at the same time, so it has an influence on other visitors' waiting time, too. Therefore, we kindly ask you to arrive on schedule. Please submit a mobile phone number where we can reach you on the day of your visit. If the time or day of your booking has to be changed, please let us know!
The reservation can also be made by phone. You're welcome to call us at .
Your message has been sent.
We will respond to your inquiry as fast as possible, normally within 1-2 business days....
All the Best,
The Miniatur Wunderland Team
Travel Packages
We have partnered with Hamburg Tourismus (the official Hamburg tourism agency) to offer special packages for travel groups, as well. These are great if you want to visit Miniatur Wunderland with more than 15 people: In addition to reduced fare and privileged entry to Wunderland, Hamburg Tourismus will create a special accommodation package according to your wishes and needs.
Your benefit: Hamburg Tourismus is the official marketer of our lovely city and has the best connections to all tourism-related institutions and attractions. And you can let them create a non-binding and exclusive travel package just for you!
How it works
Fill in the form.
Hamburg Tourismus will send an individual package to your e-mail within two business days.
If you like the offer, just confirm it and Hamburg Tourismus will do all the booking for you.
For more information about group offers, please contact our partners from Hamburg Tourismus at 040/300 51 300.
Your message has been sent.
We will respond to your inquiry as fast as possible, normally within 1-2 business days....
All the Best,
The Miniatur Wunderland Team