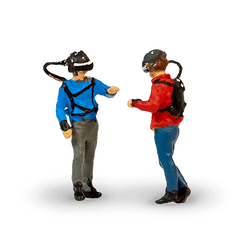 The Virtual Reality Experiences at Miniatur Wunderland
Shrink yourself into the Wunderland - with our great virtual reality experiences. In cooperation with Europa-Park, YULLBE WUNDERLAND is a new attraction for Hamburg. Let high-tech transform you into a model figure and discover the Wunderland at eye level.
Shrink yourself into the Miniatur Wunderland
There are two different VR rooms to choose from, each with a Wunderland adventure: Our 30-minute adventure "The Crazy Shrink Tour" takes place in the YULLBE WUNDERLAND PRO room. Here, together with up to five fellow players, you can move freely in a play area of over 250 m² and have to solve various tasks together.
The shorter Wunderland experience "Walking in Wunderland" is perfect choice for a first insight into VR. Playing in the YULLBE WUNDERLAND GO room, the 10-minute experience lets you experience another incomparable adventure individually and equipped only with a VR headset in an 80 m² gaming area.
Frequently asked questions
What is VR/Virtual Reality?

VR stands for virtual reality and, in short, replaces the real environment with an animated world. The most important element here is the VR glasses, which replace the field of vision via a display directly in front of the eyes and track movements. By walking around or looking around, the entire digitally generated environment can be explored as if you were really there. Headphones accompany the experience with audio elements.


Where do I need to go for the VR experiences?

The adventures of our virtual reality world YULLBE WUNDERLAND are located in the same building as the Miniatur Wunderland, access is possible through the Miniatur Wunderland, but also independently from the street. The address is: Am Sandtorkai 33, 20457 Hamburg

What technology does the VR adventure work with?

In YULLBE WUNDERLAND PRO you will be equipped with VR goggles, a headset, a vest for haptic vitrations as well as hand and foot sensors. This makes it possible to capture any movements of the players and transmit them to the virtual world for all players to see.

In YULLBE WUNDERLAND GO, players are equipped with VR goggles and one or two controllers. Thanks to an advanced tracking system built into the glasses themselves, the players' movements are recorded without additional sensors on their hands and feet.

Can I wear glasses?

Depending on the size of the glasses, they may not fit under the headset. We therefore recommend using contact lenses. Otherwise, participation is only possible without your own glasses.

What clothes are recommended?

Only sturdy shoes are ideal (no flip-flops etc.).


From what age is the VR experience suitable?

Unfortunately, due to technical limitations, children under 1.30 m or under 10 years of age cannot participate in YULLBE PRO. Our short adventure YULLBE GO is suitable for children eight years and older.

Is the experience barrier-free?

Unfortunately, the technology used does not yet allow people with limited mobility to participate.

I have a YULLBE WUNDERLAND voucher, how can I redeem it?

Simply select a date for your experience at miwula.de/vip. If you have a YULLBE and Wunderland combination ticket, you can visit Miniatur Wunderland at any time on the selected day.