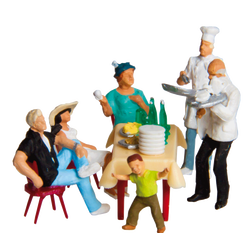 Food & Beverages
Don't worry: Food & Beverages aren't served at miniature scale!
The Wunderland offers a choice of meals and beverages at family friendly rates. And our Giant Currywurst (curry sausage) is famous!
It's fun to eat at our bistro! The seats were carefully designed and you can either sit in one of the train compartments or in our lounge and watch the goings-on. We offer something for every tummy at every time of the day. Information can be found here in our menu.
Pricing is important to us. In contrast to other leisure-time attractions, our prices are quite moderate and we strive for offering good quality at affordable prices. In fact, we think that we reached that goal in our restaurant.
Our restaurant opens at the same time as the Wunderland. In the morning, we offer fresh rolls, coffee and tea. From about 11 a.m. on, lunch is available, but if you like, you can get something to eat before then. Often, our restaurant is open until late in the night. It closes one hour before the Wunderland itself is closed. In short: No matter what time you arrive, we'll be there for you.
You are very welcome to sit in the restaurant without consuming anything, and bringing your own food and beverages is definitely permitted.