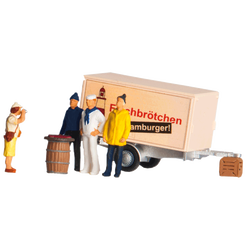 Culinary Trip around the World
There are only a few occasions every year when you get the chance to combine your visit to the Wunderland with an exceptional culinary experience. Our "Culinary Trip around the World" is the most exclusive and delicious event. Tickets are very limited!
For three and a half hours you can take a tasty trip through all the countries of the Miniatur Wunderland. Try delicious antipasti on a Piazza in Rome, or the classic Zurich Ragout with hash browns at the foot of the Swiss Alps. Enjoy lobscouse stew with fried quail eggs at the Hamburg waterfront or tasty mini burgers at the Grand Canyon. We serve typical drinks of the countries, for instance Wine from Sicily or honey mead from Scandinavia. Of course we also have non-alcoholic beverages like Bionade or Pepsi-Cola on our menu. The complete menu can be found with each event below. Our "Culinary Trip around the World" caters to only a limited number of guests and promises a relaxed evening visit to the Wunderland with an elaborate buffet.
Of course there is also some special entertainment planned for the night: at different points of the site you have the chance to dive deep into the secrets of our exhibition with one of our guides. Our host of the evening will also take you on a journey through the history of the Wunderland. We are sure you will learn a few special details you hadn't known before. Please note that our host will lead through the evening in German. The guided tours will also primarily be held in German, some guides, however, may speak English as well. This is a wonderful all-inclusive-evening giving you the chance to dine in very special surroundings.
Prices
Adults (age 16+): €
Kinder (under 16 years): €
Children under the size of one meter are free!
There are no additional rebates available for our special events.
Notice for wheelchair users:
This event is also accessible for wheelchairs. Wheelchair users also have a chance to have a look "behind the scenes".
COVID-19 Notice:
There are only a few dates at first, further dates are being planned and will be published as soon as they are fixed. Please DO NOT ask when further appointments will take place, we will not answer emails in this direction.
You can book new tickets in the overview below, old tickets must be booked for a new date via www.miwula.de/tausch.
Unfortunately, at the end of the rebooking, there is always an error message: "504 - Gateway Timeout - Server did not respond in time", should you receive this error message, the rebooking still worked! You may also not receive the email. None of this is bad. However, we cannot send the email again either. Then simply use the original tickets and simply change the date with a pen, the imprint is not relevant, only the date in our system.
Menu 2023

Scandinavia:

Smoked Fish Specialties
Hot Dogs DIY (optional veggie sausage)
Ragout of Cod and Crayfish in Dill Sauce with young Potatoes
Blåbärskräm (blueberry cream)
Mead, Aquavit

America:

Crab Meat Salad & Florida Salad
Shrimp Salad
Mini Meat & Veggie Burger DIY
Chick'n Cajun Style
American Cheesecake (New York Style) & Mini Donuts
Coca Cola, Iced Tea

Hamburg:

North German Bean Salad (vegan) & Matjes
Pumpernickel & herb pear sour cream
Hamburger Labskaus with Quail Fried Egg
Hamburger Franzbrötchenauflauf with Applesauce and Vanilla Sauce
Astra, Bionade

Austria:

Heurigen Platter with Apple Horseradish
Mini Wiener Schnitzel (veal) with Potato-Cucumber salad (salad: gluten-free, lactose-free)
Kaiserschmarrn with Stewed Plums
Grüner Veltliner, Almdudler

Switzerland:

Swiss Cheese Platter (lactose-free, gluten-free) with Mountain Bread
Zürcher Geschnetzeltes (veal) served with Knöpfli with Cheese and Fried Onions
Chocolate mousse
Appenzeller

Italy:

Antipasti
Tomato-Mozzarella in a glass
Minestrone
Pasta Verdura al Forno (pasta baked with vegetables and cheese, vegetarian)
Torta Caprese & Torta Limone
Tiramisu
San Silvestro, Sicilia DOC; Vernaccia di San Gimignano, Espresso & Co.

South America:

Tacos and Tortillas with Dips (guacomole, tomato salsa and jalapenos)
Mango Chili Salad (vegan) with and without Scampi
Rice Salad with Black Beans, Corn, Coreander and Lime
"Feijoada" Black Bean Stew with Pork
"Pablo Mole" (Turkey with Cocoa Sauce)
Sweet Potato Casserole (vegan)
Churros with Cinnamon and Sugar
Pina Colada Mousse
Exotic Fruit (Coconut, Pineapple, Papaya, Star Fruit)
Club Mate

Subject to change without notice


Menu Midsommar Special

South America:
Tacos and Tortillas with Dips (Guacomole, Tomato Salsa and Jalapenos)
Papaya Quinoa Salad "spicy"
Tamarillo Tomato Chutney with and without Chicken (cold)
"Feijoada" Black Bean Casserole with Pork
Grilled Skewers of Beef and Vegetables
Rice and Corn
Coffee and Cocoa Cakes with Kahlua Liqueur
Caipirinha Mousse with Lime and Pitu
Exotic Fruits (Coconut, Pineapple, Papaya, Star Fruit)

Italy:
Tomato Mozzarella
Green Asparagus in Parma ham or in nut butter
Lime-Ricotta Cream
San Silvestro, Sicilia DOC; Vernaccia di San Gimignano, Pellegrino

Switzerland:
Swiss Cheese Specialties
with Mountain Bread
Thimble Dumplings with Cheese
on green Salad with Yoghurt-Lemon Dressing
Sour Cream Dessert with Apricots
Rivella

Austria:
"Tafelspitz-Salad" (Boiled Beef)
Veggie-Strudel with Sour Cream
"Topfenpalatschinken" with Quark and Berries
green Veltliner, Almdudler

Hamburg:


Holsteiner Dielenwurst (Sausage), Katenschinken (Smoked Ham) and Küstenlümmel (Sausage) with Bread 2 and Shortening
New Matjes with Roast-Potatoes and green Beans
Strawberries with Cream
Astra, Bionade, Summer Punch


USA:
Cole Slaw
Freedom-Burger, Chicken Wings
Cup Cakes
Coca Cola, Iced Tea

Scandinavia:


Scandinavian Fish Specialties smoked and from the Oven
Moose Sausage and Köttbular with Lingonberries
Troll-Cream
Norwegian Dessert made (from Egg white and Lingonberries)
Mead, Aquavit

Changes reserved

Menu Christmas Special

South America:
Taco Chips with Various Dips (Guacomole, Cucumber Salsa, Tomato Salsa and Jalapenos)
Avocado Shrimp Cocktail with Chili and Lime
Corn Salad "Veggie" / Corn Salad with Beef
Coxa de Frango (Cold Chicken with Black Bean Cream)
South American Roast Pork with Chocolate Chili Sauce
Caribbean Red Snapper Fish with Mojo
Rice & Black Beans
Corn on the Cob
Coffee Liqueur Cakes with Cinnamon
Pudim de Leite / Exotic Fruits (Coconut, Pineapple, Papaya, Star Fruit)

Italy:
Vitello tonato with capers
Marinated seafood with lime and herb
Ravioli with truffled spinach cream sauce
Panettone
San Silvestro, Sicilia DOC; Vernaccia di San Gimignano, Espresso & Co.

Switzerland:
Swiss cheese specialties, mountain bread
Barbarie duck leg with fig sauce and bread dumplings
Mousse au Chocolate made from Swiss chocolate
Cottage Lemonade

Austria:
Smoked trout with horseradish cream
Sausage soup with potatoes
Apricot dumplings with butter
Grüner Veltliner, Almdudler

Hamburg:
Smoked goose breast and Holstein ham on Waldorf salad
Skrei fillet (cod) with orange sauce and aniseed, roasted potatoes
Baked apples with vanilla sauce
Astra, Bionade

America:
Salad with Roquefort, pears and pine nuts
Turkey breast with cranberry sauce and mashed sweet potatoes
Apple crumble with maple syrup
Coca Cola, Iced Tea

Scandinavia:
Various marinated herring snacks and smoked fish specialties
Svineribbe (ribs) with Svenssons frestelse (potato gratin)
Risgrynsgröt (rice pudding with almonds and cinnamon)
Glögg (Swedish mulled wine), winter beer

Subject to changes