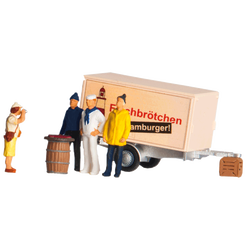 Culinary Trip around the World
There are only a few occasions every year when you get the chance to combine your visit to the Wunderland with an exceptional culinary experience. Our "Culinary Trip around the World" is the most exclusive and delicious event. Tickets are very limited!
For three and a half hours you can take a tasty trip through all the countries of the Miniatur Wunderland. Try delicious antipasti on a Piazza in Rome, or the classic Zurich Ragout with hash browns at the foot of the Swiss Alps. Enjoy lobscouse stew with fried quail eggs at the Hamburg waterfront or tasty mini burgers at the Grand Canyon. We serve typical drinks of the countries, for instance Wine from Sicily or honey mead from Scandinavia. Of course we also have non-alcoholic beverages like Bionade or Pepsi-Cola on our menu. The complete menu can be found with each event below. Our "Culinary Trip around the World" caters to only a limited number of guests and promises a relaxed evening visit to the Wunderland with an elaborate buffet.
Of course there is also some special entertainment planned for the night: at different points of the site you have the chance to dive deep into the secrets of our exhibition with one of our guides. Our host of the evening will also take you on a journey through the history of the Wunderland. We are sure you will learn a few special details you hadn't known before. Please note that our host will lead through the evening in German. The guided tours will also primarily be held in German, some guides, however, may speak English as well. This is a wonderful all-inclusive-evening giving you the chance to dine in very special surroundings.
Prices
Adults (age 16+): €
Kinder (under 16 years): €
Children under the size of one meter are free!
There are no additional rebates available for our special events.
Notice for wheelchair users:
This event is also accessible for wheelchairs. Wheelchair users also have a chance to have a look "behind the scenes".
Menu 2020

Italy:
Panzanella – Bread Salad with Tomato, Rocket and Olives
Piatto di Salumi with Grissini and Italian Sausage and Ham Specialties
Cream Cheese Lasagna with Vegetables
Panna Cotta with Amarena-Cheries
Tiramisu
Vernaccia di San Gimignano, Nero d'Avola, Sicilia DOC, San Pellegrino, Espresso & Co.

Switzerland:
Swiss Chees Platter with Artisan Bread
Zurich Ragout with Swiss Hash Browns
Toblerone Chocolate Mousse with Brittle
Cottage Lemonade

Austria:
Pancake Soup with Chantarelle
Small Viennese Schnitzel with Potato Cucumber Salad
Kaiserschmarrn with Stewed Plums
Grüner Veltliner, Almdudler

Hamburg:
Potato Rissole with Sour Cream
Hamburg Style Lobscouse with Quail Eggs
Red Fruit Jelly with Cream or Vanilla Sauce
Astra, Bionade

America:
Mini Wrap Chicken Style und Mini Wrap Veggie Style
Mini Burger (Beef)
Chili con Carne and Chili sin Carne (vegan)
American Cheesecake (New York Style), Mini Muffins
Pepsi Cola, Iced Tea

Scandinavia:
Salmon Tatar with Creme fraîche and Smoked Fish
Vension Ragout with Cowberry in Cream Sauce and Potatoes au Gratin
Almond Cake
Aquavit, Met

Changes reserved

Menu Midsommar Special

Italy:
Tomato Mozzarella
Green Asparagus in Parma ham or in nut butter
Lime-Ricotta Cream
Feudo Arancio Nero d'Avola, Sicilia DOC, Vernaccia di San Gimignano, Pellegrino

Switzerland:
Swiss Cheese Specialties
with Mountain Bread
Thimble Dumplings with Cheese
on green Salad with Yoghurt-Lemon Dressing
Sour Cream Dessert with Apricots
Rivella

Austria:
"Tafelspitz-Salad" (Boiled Beef)
Veggie-Strudel with Sour Cream
"Topfenpalatschinken" with Quark and Berries
green Veltliner, Almdudler

Hamburg:


Holsteiner Dielenwurst (Sausage), Katenschinken (Smoked Ham) and Küstenlümmel (Sausage) with Bread 2 and Shortening
New Matjes with Roast-Potatoes and green Beans
Strawberries with Cream
Astra, Bionade, Summer Punch


USA:
Cole Slaw
Freedom-Burger, Chicken Wings
Cup Cakes
Pepsi, Iced Tea

Scandinavia:


Scandinavian Fish Specialties smoked and from the Oven
Moose Sausage and Köttbular with Cranberries
Troll-Cream
Norwegian Dessert made (from Egg white and Cranberries)
Mead, Aquavit

Changes reserved