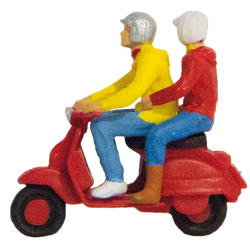 Heartbeat of the Wunderland
Without a doubt the Miniatur Wunderland is not only unique in its landscaping and surface design, but also with regards to the technology behind the scenes. In quite a few areas of model making technology the team around Gerrit Braun has pushed the limits.
The Model Building
The "fixers" of Miniatur Wunderland.
Without them the Wunderland would be deserted and dull: the model builders. The continuously growing team has been busy every day ever since the beginning. New theme worlds are being built, other theme worlds are being repaired and models replaced, and from time to time a few details in the scenery, or a complete Elbphilharmonie, are being added.
Model Railway
Without it Miniatur Wunderland can't exist - despite the Carsystem, airport, ships and push-button actions. And it wouldn't want to miss it anyway. On the contrary: The model railway is the most vital element of the entire layout. On these pages you can find out more about the technology and it's usage at the Wunderland.
Carsystem
It is fascinating when the vehicles move magically over the system. They flash, they follow the right of way, they stop at red lights ... Here's how this spell works.
Airport
Ready for take-off? Facts and figures about the Airport and impressions of this technical masterpiece can be found here.
Ship Control System
Ever since the Scandinavia section was built in 2004 there is a real water basin in our exhibition holding of water. Even if the ship control system has already caused many grey hairs on our technicians and will continue to do so - there is already a lot of activity on the water surface. Take a look at our fleet.
Technology down to the last detail
If you haven't run out of breath with all these backgrounds on the technique of Wunderland, we have a few very special technical treats for you. Learn more about our workshops, the push-button actions and the sound system. And if you are interested in becoming a model making technician, we have also collected a few tips and tricks for you.
Admire the Wunderland technology at first hand!