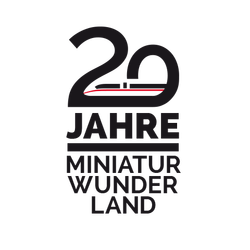 Welcome to our special exhibition: 20 Years of Miniatur Wunderland
What has started out as a seemingly crazy idea, turned out to be a fairytale-like story, which has turned into reality.
We'd like to take you on a journey through 20 exciting years - from the very first idea to a peak into the near future.
Dive into the history of the Wunderland! Its origin, the making of every individual world, daring record trials and the most extraordinary events of the past two decades.
We hope that we can give you an exciting insight into the history of the wonderful world of the Miniatur Wunderland – from small inventions to the great masterpieces of model building.
Enjoy exploring!
Discover 20 years of Miniatur Wunderland
2000

September

Signing the lease

October 30th

Publishing of the job posting "Model builder wanted" in local and nationwide

November 1st

Moving into the building in the historic ware house district

November

Of 150 applications, 40 candidates are invited to the casting of model builders

November 17th

The first 17 "Wunderlandians" are hired

December 15th

Official construction start of the model system

2001

January 8th

First TV team ask for a filming permit


January 24th

The website goes live. In the first 48 hours it's reaching 2000 visitors

February

Arrival of the first 40 boxes with trees and 20,000 figures

March 18th

The last cabling of the first section is finished

May

The first car-system vehicle is driving

May 21st

The TV channel Sat1 publishes a first big television report about Miniatur Wunderland

July

The first Fire trucks arrive at the fire station in Knuffingen

December

First rails in Hamburg are placed


2002

January 21st

First train test drives take place in the future section of Hamburg

June

Installation of the golden writing "Modelleisenbahn Wunderland" on the front of the building

June

The first additional space is being leased and the extension plan of the Wunderland is being amplified

June 10th

The 3-wire branch line and the 2-wire (sub)urban train are in operation

August

The Transatlantic tunnel between Hamburg and the planned construction section America is being build


August 16th

The Wunderland celebrates its 1st birthday

October 28th

Constructions in America start

2003

March

The Hamburg central station moves into the existing section

July

Field work in Central Germany: The famous sunflower field emerges

October 14th

The street lights in Miami are installed

October 25th

The Control station is in operation

2004

January

The 1,000,000th visitor enters the Wunderland


February

Further construction is secured: Signing of the lease for the new space

April 5th

The first functional ship is placed in the Wunderland Bay

June 21st

Completion of the traffic control system in America

July 16th

Completion of the traffic control system in America

July

The Mini Miniatur Wunderland is moving to the Hamburg section

2005

February 10th

Welcoming the 2,000,000th guest

May 7th

The Wunderland earns the MOBA "Innovationspreis Modellbahn"

August


The city portal Knuffingen goes online

October

Construction start in Swiss section

November 23rd

The real santa visits the Wunderland

Mid December

TV tower of Hamburg is installed


2006

April 20th


The 3.000.000th visitor enters the Wunderland (Receives a present: Little cottage in Norway)

May 19th

The Cap San Diego joins the Wunderland fleet of ships


August

The Wunderland celebrates its 5th birthday

December 20th

The first trains do a test run in the Swiss section

2007

January 15th

Auction of five Swiss properties for charitable purposes

January 19th

The locomotive lift is installed


April 13th

All house and street lighting of existing sections has been switched to LED's

June 13th

The 4,000,000th visitor enters the Wunderland


August 20th

The AOL Arena becomes the HSH Nordbank Arena: Ceremonial inauguration with HSV player Frank Rost

End of August

The Bundesliga train runs for the first time at the facility

October

Loss of entry in the Guinness Book of Records (Longest Train)


2008

February 22th

Opening of the German Jet gas station with real time price display

April 8th

First time completely emptying the Scandinavia tank for repair work

July 16th

The 5,000,000th visitor enters the Wunderland

2009

January

The visitors of the Wunderland can observe first test flights at the Knuffingen airport


February 25th

Simone Young conducts 75 small musicians in the Hamburg section to Brahms' Second Symphony

June 21st

The new DJ Bobo stage is being opened

June 25th

The 6,000,000th visitor enters the Wunderland

July

The ship lift in the Bavaria section is built

2010

January 1st

The Wunderland increases its space by 800m². The expansion is secured

February 24th

DJ Bobo's new stage show is finally integrated in Wunderland after more than half a year with him on tour

March

The airport is officially opened

March

Carsystem vehicle breaks the record mark of 10,000 real kilometers driven


June 4th

The 7,000,000th visitor enters the Wunderland

August 26th

Ceremony to mark the renaming of the football stadium: HSH-Norbank Arena becomes Imtech Arena

2011

January

First construction work on Castle Neuschwanstein

January

Integration of digital arrival and departure schedules at the airport


February 16th

The 1,000,000th visitor from Hamburg is welcomed

June


Dry dock moves in the water basin of Scandinavia

August

The Wunderland celebrates its 10th birthday


2012

July 17th


The Wunderland opens the 2nd floor with entrance, store and bistro

September

300,000 donation pins have been sold for a good cause

November 8th

The Miniatur Wunderland is winner of the German Tourism Award

August

The 10,000,000th visitor enters the Miniatur Wunderland

2013

March

Press campaign: Construction bungle at the Elphilharmonie becomes known

April 16th


Opening of the international horticultural show in the Hamburg section


May

Shell of the Elphilharmonie stands


May

TicTacToe button is installed in Bavaria

May 9th

Construction start of Italy with prominent visit

October

Record attempt: Around 200 model railroads pull an 84-ton locomotive

2014

March 30th

Inauguration of the Davidwache in Hamburg


May

Wunderlandians travel to Italy for research

May 27th

Musician The Bo shoots music video for hit "Fanfest" in Wunderland

October

The Miniatur Wunderland gets a new logo

December 4th

Installation and inauguration of the Lion King tent

December 8th

On the occasion of Hamburg's Olympic bid, a miniature stadium is erected in the Europa Passages

2015

January

Initiative "I can't afford it" takes place for the first time


February 20th

Fire and flame: Chain of lights around the Alster

April 25th

5,000 days Miniatur Wunderland

May 18th

The German comedy series "Neues aus Büttenwarder" moves into Wonderland as a model

November 3rd

The Tagesschau studio moves into the Hamburg section


November 8th

World record: Model of Olympic rings with over 6,000 people





2016

January 6th

Wunderland becomes part of Google Street View as the smallest place in the world


April 19th

The 250th Youtube video is published

August 12th

Visitor from East Timor completes the Wunderland world map

September 21st

Donation pins crack the 500,000 euro mark

October 5th

Miniatur Wunderland named Germany's most popular tourist destination by the German National Tourist Board (DZT)


December 2nd

The 15,000,000th visitor enters the Wunderland


2017

April 7th

Wunderland trains have traveled 10 million kilometers (250x around the world)

Summer

Idea of collaboration with the modeling family Martinez from Buenos Aires

September 8th

The video "The apocalyptic non-voters" calls the people to vote during German elections

November 17th


Biography "Small world, big dream" appears

2018

February 2nd

Successful video on the subject of "man sniffles"

June

Wunderland model makers travel to Monaco for research


Summer

Construction start of Rio de Janeiro in Buenos Aires


October 1st

Successful video: "Der letzte macht das Feuer aus"


2019

May 18th

Video: 70 years of "Grundgesetz"

June 27t

Shit storm about the poster campaign "Factory Farming" in Knuffingen


October

First lavender is planted in Provence

May

First rehearsal of the new fair


2020

March 16th

Closure of the Wonderland to Corona Lockdown

April

Modernization of the control station


May 20th

Reopening after lock-down

July 15th

Building bridges: The 36-ton pedestrian bridge is positioned in place, connecting both buildings

November 2nd

Lockdown #2: Closing down the Wunderland for the secondtime

December 15th

Wunderland Christmas party takes place in 1:87

December 16th

First parts of Rio de Janeiro arrive in Hamburg


December 29th

Video: Corona-Virus fire ball

2021

March 26th

Children's book "The Legacy of Wonderland" published

May 27th

Reopening after Lockdown #2


End of May

Boxes for Rio de Janeiro are unpacked in the new warehouse


August 16th

20 Years Miniatur Wunderland

August 23rd

The 20,000,000th visitor enters the Wunderland