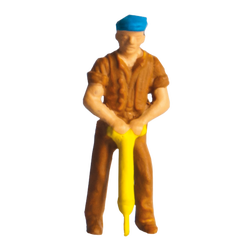 The Future of Wunderland
Monaco, Provence, Patagonia and Chile are our current construction stages. But what should come next? We have almost unlimited possibilities in model building and with the bridge built, the further construction of the Wunderland was secured - there is no lack of ideas!
On this side of the bridge, we are already working on the highlights that will use up the last square meters in this store bysometime in 2024.
While some places in the Wunderland look like a cluttered hidden object, we are creating an absolute contrast with the Provence construction project. Our visitors will be immersed in a Mediterranean oasis of relaxation and can let their gaze wander over purple lavender fields. But buildings typical of the country will also characterize this atmospheric construction section.
And once the silence has been absorbed, it's already racing on with deafening engine noises at Formula 1 in Monaco. While the race dominates the central action, the stars and starlets in the spectator stands also attract attention. The potential for gossip is great and is sure to be exploited. Monaco and Provence will 36 m² Wunderland surface adorn.
By building South America, we got involved for the first time in something that has never been done before: In order to build authentically, we have already been working with model builders from South America since Rio de Janeiro - an incredible inspiration for our model builders, who spent several months near Buenos Aires. Thanks to the Martinez family, it is possible to build South America authentically from a South American point of view without relying entirely on our European perspective.

The South American continent still offers a wealth of charming landscapes. It is already certain that the dense Amazon rainforest will occupy a central place in the store. The huge trees will be impressively large even on a scale of 1:87. A few steps away, the beaches of the Caribbean will be brought to life. One thing is certain: the vacation feeling will grip every visitor in this approx. 140 - 160 m² large section! Probably from end of 2024 this paradisiacal section will be experienceable. Other parts of Central America are also on the wish list of modelers.
Asia or Great Britain, the motherland of the railroad?
If we look even further into the future, parts of Asia with their megacities, such as Hong Kong or Singapore, would be tempting construction projects. The relocation of our workshops to storage block D will also free up space on our existing storage side. Thus, starting in 2028, we plan to build Great Britain, the motherland of railroad and the fascinating landscapes of the island, as a model. The Benelux countries or Paris are also parts of the vision to complete the development in our exhibition.
One thing is certain: The real world offers so much inspiration, and if we have our way, we'll never stop building.
Until the beginning of 2030, we'll definitely be busy and you'll have plenty of new things to discover!
Learn more about the future construction sites
All information about Miniatur Wunderland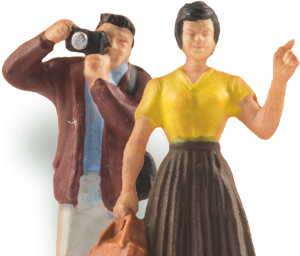 Straight to your digital mailbox
Easily receive news, offers & interesting information.