Utopia 2013
6 m² of Future. Party Models for the German Election 2013.
In June 2009, voter participation during the European election was at an all-time low. Therefore, the idea was born in the workshops of the Wunderland to show politics in a wholly different way. The Miniatur Wunderland donated one square metre of land to each political party represented in the German Bundestag, including an offer to build their own vision of the future on this single square metre.
All parties accepted the offer and built six detailed models together with the Wunderland model makers. Another election is approaching now in the year 2013 and the situation is not necessarily better.
In fact, many scholars claim that indifference towards politics is higher than ever. So we decided to create a new Utopia special exhibition for the federal election. As before, the idea was met with approval by the party leaders. The result is a set of six models which we would like to explain on the following pages. Of course, this exhibition alone is unlikely to change the voter turnout in any significant manner, but perhaps we can manage to shed a little light on politics or on one or two political parties. We hope to offer you an entertaining and nonchalant view on politics and party programmes.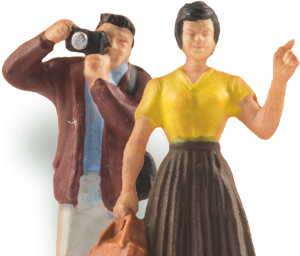 Straight to your digital mailbox
Easily receive news, offers & interesting information.