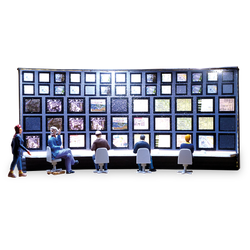 Wunderland at Night
Experience an unforgettable evening at the Miniatur Wunderland in a very personal setting: This is a one of a kind Wunderland visit you can enjoy with your family and friends alongside a small group of other visitors. At "Wunderland at Night" we open our doors for only a small number of guests.
Without any waiting time at all you can enter the Miniatur Wunderland. Your coats and bags can be stored at our cloakrooms free of charge, but don't forget to bring your camera (taking pictures in our exhibition is very welcome!) and your reading glasses, some of the things you are about to see are very small!
In the course of the evening our host will take you on a journey through the history of the Wunderland. We are sure you will learn a few special details that are not visible to the eyes. You also have the chance to dive deep into the secrets of our exhibition with one of our guides and look behind the scenes, where you normally cannot not look during a visit at daytime.
Please note that our host will lead through the evening in German. The guided tours will also primarily be held in German, some guides, however, may speak English as well.
Look forward to an evening without a big crowd and in a personal atmosphere!
Prices:
Adults (16+ years): €
Children (under 16 years): €
Children with less than one meter height are free!
There are no additional rebates available for our special events.
Notice for wheelchair users:
This event is also accessible for wheelchairs. Wheelchair drivers also have a chance to have a look "behind the scenes".