Ship Hoist
Technological miracle of the past.
At a time when electronic passenger elevators were still special and mostly of the paternoster type, a slightly larger elevator was constructed in the town Niederfinow in Brandenburg, Germany. From 1927 to 1934 a ship hoist was built during construction of the Oder-Havel-Channel. This hoist made it possible to lift ships of up to 85 meters length over a height difference of 36 meters. For this, the ships were maneuvered into a trough hanging from long ropes which ran over many spools. Then the trough was moved countered by 4.300 tons of weights.
Our technological department had been wanting to rebuild this technological treat for a long time. Its location in Bavaria, at the foot of Neuschwanstein appeared to be ideal for this. But you can't buy ship hoists as functioning models from the suppliers. Therefore the model building and technology departments faced the challenge and today you can set the ship hoist in Wunderland in motion with the push of a button.
It is even more impressive at night, because the filigree structure of the building becomes much more visible with the illumination. The motion of the trough creates a fascinating shadow play. And, just like in reality, there is a crane on the roof, which, at least in the original version, is required for service and repairs of this highly sophisticated construction.
A newer and bigger model is being built next to the original ship hoist in Brandenburg, which will be replacing the current model starting from 2025. Luckily the version at Wunderland will not share this fate, since the miniature ships defy globalization and cost pressure and will therefore never outgrow the lifting capacities of our hoist.
Highlights at the Airport and in Bavaria
All information for your visit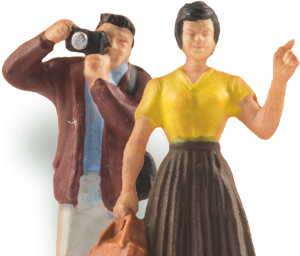 Straight to your digital mailbox
Easily receive news, offers & interesting information.