The Carsystem in Knuffingen
The Carsystem in the Knuffingen section is the oldest and biggest Carsystem in all of the Wunderland. It stretches over the entire section.
Heart of the facility is a fiddleyard which can hold up to 250 vehicles and is hidden behind a mountain at the end of the motorway. On the right hand side of the motorway there is a small fiddleyard for reversing, to make sure a vehicle will not return to the oncoming lane before it has waited its turn in line. The fiddleyard is also home to ten permanently stationed vehicles, which support the Knuffingen fire department in larger emergency operations.
In the center of the layout, the town of Knuffingen was built. This is where a bus station with six bus routes, a taxi station which can accommodate up to six cabs, the main fire station house with nine gates and the police station are situated (these are of course just the buildings integrated into the Carsystem). The town can be accessed via two motorway exits: the left one using an underpass below the station tracks and the right one being a bridge crossing the tracks. The total of the Carsystem roadway adds up to  and has about 200 electrical turn-outs. The Carsystem can accomodate up to 312 vehicles (= amount of parking spaces). This section contains an automated docking station with  computer controlled payload bays, which are used by the vehicles from Knuffingen Airport, as well.
The layout has two big crossroads, equipped with realistic traffic lights. Both sets of traffic lights are synchronized, to provide green lights all the way. Just the configuration of the control system took some 30 hours to program, since the traffic light phases include a separate sequence for the cars to turn left or right without colliding with oncoming traffic. Although in comparison to the thousands of hours invested in the development of the Carsystem, the development of the traffic light phases was peanuts.
Fire fighter missions dominate the scene in Knuffingen - one of the safest work places within the Wunderland is a job as a fire fighter. In average, every 15 minutes the brigade is called to one of five big rescue scenarios. Additionally, every 15 minutes the trucks leave for one of the six smaller rescue scenarios. Since the completion of the airport, the "Knuffingen Airport Fire Department" supports the Knuffingen Fire Department with additional fire protection and has jurisdiction of all emergency landings.
All information for your visit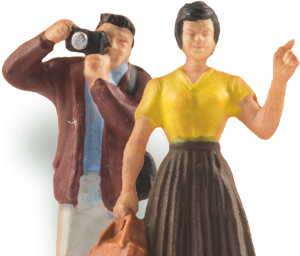 Straight to your digital mailbox
Easily receive news, offers & interesting information.