Arminius Monument
The monument in honor of Arminius the Cheruskan ("Hermannsdenkmal") is a popular destination for Wunderland visitors.
Just like the original in the Teutoburg Forest, the Wunderland version of the monument has also been historically misplaced. Scientists have discovered, that the Varus Battle of the Teutoburg Forest really took place in a different county, at the Kalkrieser Mountain in Lower Saxony. The original, however, is located near Dettmold in North Rhine-Westphalia, while the miniature Arminius monument at Wunderland overlooks the western Harz region of Lower Saxony.
The monument was built by hand high above the open air theater. The tip of the sword touches the sky at 69,6 Wunderland meters. It took roughly 160 working hours to build this version of Germany's highest statue.
Highlights in Middle Germany
All information for your visit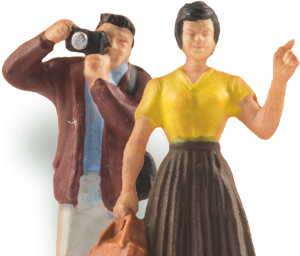 Straight to your digital mailbox
Easily receive news, offers & interesting information.