Elbphilharmonie
We literally ran through ups and downs during the construction of the Wunderland Elbphilharmonie. Not only did we exhaust the budget, we also went above and beyond regarding building time.
The miniature version of the Hamburg Elbphilharmonie was inaugurated ceremoniously three long years before the grown up version in Hamburg. Our new Harbor City monument has been in place ever since November 13th 2013, after only 364 days of construction, the peanuts amount of 200,000 Euros and a total of 13.000 working hours. It has since become fundamental to the Hamburg skyline.
Like with the real life version, the construction of the mega miniature project was a rocky journey. The construction company "Haywire Inc." had bitten off more than they could chew by taking on this contract. The company, true to its name, botched up construction from the start. An escalator, leading into nowhere and sanitary facilities floating in thin air were only two of the many genius ideas devouring taxpayers money. No wonder the Wunderland eventually fired the company from the job.
It is thanks to our new construction company, "Above & Beyond Inc", that the building was finished in spite of all critics. A total of 364 days after laying the foundation stone we opened with miniature fireworks and a large charity event. Now it only takes the push of a button to open our little "Elphi" as the people of Hamburg lovingly call the building. Upon opening our visitors become the audience of an exclusive miniature concert.
The Miniature Elbphilharmonie: Live in Concert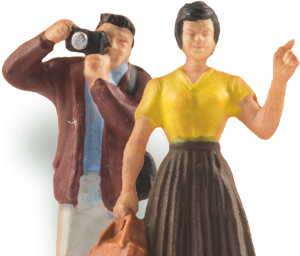 Straight to your digital mailbox
Easily receive news, offers & interesting information.