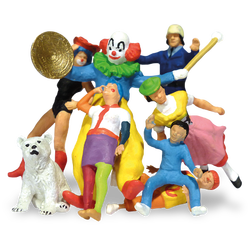 We're opening again!
We had closed for more than half a year due to the lockdown. From May 27th, 2021 we will finally be able to welcome visitors to the Miniatur Wunderland again - of course under Corona conditions.
The Miniatur Wunderland will open its doors again from Thursday, May 27, 2021. Half a year without visitors to the Wunderland is behind us - what a crazy time. We have used the past months for all kinds of projects that were otherwise not possible with visitors. A new floor was laid, water areas were re-poured, all button pushers were completely repositioned, to name just a few changes. We are all the more pleased to be able to show you the wonderland in its new splendor.

It was important to us not to reopen on the devil's own - we just wanted to do it with the good feeling that we can guarantee our visitors the best possible protection in our exhibition. Several measures are associated with the opening.

Entry into the Wunderland is only possible with a negative Corona test result. With a rapid test, the result must not be older than 12 hours, from June 4th 24h, with a PCR test it is a maximum of 48 hours. Alternatively, proof of a COVID-19 vaccination is sufficient, the last vaccination appointment must have taken place at least 14 days before the visit or you were sick with Covid-19 and show a positive PCR test result that at least 28 days and is max. 6 months old.

The DRK offers free quick tests in a citizen test center at the Wunderland from 8 a.m. to 6 p.m. Here you can have yourself tested shortly before the visit, but also independently, e.g. if you have booked a visit after 6 p.m.

The generally applicable Corona rules naturally also apply to us: hand hygiene, a minimum distance of 1.50 meters and wearing a medical one
Mask.

Last summer, we introduced the Wunderland Road Traffic Regulations, a creative solution for a tour and thus support in adhering to distance regulations. Following positive experiences from last year, we will continue to keep the route guidance in a simplified form.

In order to be able to guarantee the best possible distance within our exhibition, we start with a drastically reduced number of guests who are temporarily in the Wunderland. With only about a fourth of the usual visitor capacity, each guest should be able to move around with sufficient distance and enjoy a clear view of the facility.


You can find detailed information about how a visit to the Wunderland will look like in days of Covid-19 here.