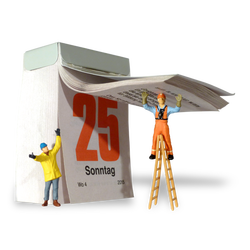 How to visit Miniatur Wunderland during Covid-19
Dear guests,
special times require special actions. As times are constantly changing, we always provide you on this page the regulations valid at the current time. Please read them carefully before visiting us.
We are very happy that you are planning to visit us and we hope to provide you with some wonderful hours in this crazy time.
Of course, we have put a lot of thought into how we can make the exhibition area safe for our guests and still ensure that they have a great time visiting us. We would like to introduce you to some of the measures we have taken in advance.
BEFORE your visit
First things first: If you feel ill on your visiting day or the days before, a visit to Miniatur Wunderland is unfortunately not possible. In this case we kindly ask you to cancel your ticket or postpone your visit. Click here to change your booking.
Tickets must be booked in advance online, on site it is NOT possible to buy tickets.
Please be on time within your 30-minute time-slot for admission.
Please be aware that we have to take care at the entrance to ensure that only a limited number of visitors are at the exhibition at the same time. Therefore short waiting times may occur in exceptional cases.
If waiting times occur, please wait within the areas marked on the floor, keeping in mind the social distancing rule of 1.50 metres.
Please also make sure to keep distance to our Wunderland employees at the cash desk and at the entrance.
DURING your visit
In order to ensure keeping distance within our exhibition in the best possible way, we have drastically reduced the number of guests staying at Miniatur Wunderland at the same time. So there is good news for you: It will be much emptier than usual :-)
Our Wunderland road traffic regulations will also help you to keep your distance. No worries - it is not complicated and there is no driving test!
Until further notice, the Wunderland road traffic regulations will guide our guests as a circuit through the exhibition.
The generally applicable Covid-19 rules will of course also apply to us - in other words: special hand hygiene must be ensured, the minimum distance of 1.50 meters from other visitors and employees must always be kept and and moreover you have to wear a mask covering your nose and mouth at our place until further notice (this applies to all persons from 7 years on - according to the Hamburg Covid-19 regulation, no exceptions, not even with a certificate; alternatively you can bring a so-called faceshield with you or buy one here on site.)
If you are accompanied by your (small) children, we would like to take this opportunity to ask all parents once again to pay special attention to the fact that the children also need to follow the rules. We do not want to exclude children from visiting us under any circumstances and therefore place our trust in all parents. Please always keep the well-being of all our visitors in mind! If you have any doubts about whether a visit to Wunderland is still feasible and fun for you and your children under these conditions, we ask you with a heavy heart to reconsider your visit with us and, if necessary, to reschedule it for a later date, in a hopefully more normal world again.
Unfortunately we cannot offer guided tours at the moment. The limited space available behind our scenes is not compatible with the rules of social distance.

The cloakroom is reopened. Additionally, free lockers are available where you can safely store your clothes and valuables. You may have to be patient here, as our lockers are quite narrow and we have to take care that the rules of distance also apply there. You can leave also leave big suitcases and strollers at the cloakroom.
Our cafeteria has to be closed.

Our parking lot is also open as usual.
Do you have questions about pre-booked tickets?
If you have any questions about tickets, guided tours or special events that you have already purchased, our Corona FAQ will certainly help you.