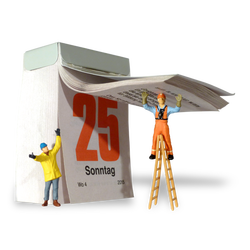 How to visit Miniatur Wunderland during Covid-19
Dear guests,
special times require special actions. As times are constantly changing, we always provide you on this page the regulations valid at the current time. Please read them carefully before visiting us.
We are very happy that you are planning to visit us and we hope to provide you with some wonderful hours in this crazy time.
Of course, we have put a lot of thought into how we can make the exhibition area safe for our guests and still ensure that they have a great time visiting us. We would like to introduce you to some of the measures we have taken in advance.
BEFORE your visit
First things first: If you feel sick on your visit day and the days before, a visit to the Wunderland is unfortunately not possible. In this case we ask you to cancel your ticket (possible up to 3 days before the original visit date) or to postpone your visit. You can change your booking here (it is possible to change your booking until the planned visit date, even without a new appointment to an unspecified one).
All already booked and paid tickets remain valid as booked (exception: special events, see Corona FAQ)
To visit the Wunderland, all visitors aged 6 and over need a negative corona rapid test, which must not be older than 48 hours, or a negative PCR test, which is not older than 72 hours. Alternatively, you can also show proof of a COVID-19 vaccination, the last vaccination appointment must have taken place at least 14 days before the visit and have been carried out with a vaccine approved in the EU or you were sick with Covid-19 and show a positive PCR test result that is at least 28 days and a maximum of 6 months old.
Corona rapid test: You can either do a test in any citizen test center; every day between 8:00 a.m. and 6:00 p.m. you can take a free test in a public Red Cross test center very close to our entrance.
Tickets should be bought online beforehand, payment on site is possible, but there will be very few remaining tickets.
Please be sure to be there on time within your 30-minute entry window.
The generally applicable Corona rules naturally also apply to us: hand hygiene, a minimum distance of 1.50 meters and wearing a medical Mask (FFP2 or FFP3 each without valve, KN95, surgical mask or medical masks with a comparable standard) (from 14 years). Children between 7-13 years should wear a medical mask if possible, but an everyday mask is also allowed. Children under 7 years of age are exempt from the mask requirement.
Unfortunately, all those who are not ready to wear a mask during their visit have to refrain from visiting and postpone their trip to the wonderland until after Corona. And according to our company doctor, if you are so ill that you cannot wear any mask, the Wunderland is currently the wrong place for you.
Please understand that we make sure at the entrance that only a limited number of visitors are in the Wunderland at the same time. Exceptionally, there may be short waiting times.
If there are waiting times, please wait within the areas marked on the floor while observing the distance requirement of 1.50 meters.
Please also make sure to keep your distance from our Wunderland employees at the cash desk and at the entrance.
Red Cross COVID-19 Test Center Speicherstadt
You don't need to run to a test center from May 26th. You can have yourself tested free of charge between 8:00 a.m. and 6:00 p.m. here in the Speicherstadt in a public DRK test center, which is located very close to our entrance. An appointment booking is essential, as otherwise long waiting times can occur. (in case, you can also do without an appointment, but then you may have to expect long waiting times). Please book an appointment for EVERY person to be tested.
Select the following test center on the login page:
DRK Hamburg-Harburg e.V.
Kehrwieder 2 (Speicherstadt)
20457 Hamburg
The appointments are offered there in 15 minute time slots, your test takes place within these 15 minutes and several people can always register for a time slot, which can lead to short waiting times here on site. Please only be there on time and not ahead of time.
If you have booked tickets for a time after 6 p.m., you can take the test earlier.
DURING your visit
In order to ensure keeping distance within our exhibition in the best possible way, we have drastically reduced the number of guests staying at Miniatur Wunderland at the same time. So there is good news for you: It will be much emptier than usual :-)
Our Wunderland road traffic regulations will also help you to keep your distance. No worries - it is not complicated and there is no driving test!
Until further notice, the Wunderland road traffic regulations will guide our guests as a circuit through the exhibition.
The generally applicable Covid-19 rules will of course also apply to us - in other words: special hand hygiene must be ensured, the minimum distance of 1.50 meters from other visitors and employees must always be kept and and moreover you have to wear a mask covering your nose and mouth at our place until further notice (this applies to all persons from 7 years on - according to the Hamburg Covid-19 regulation, no exceptions, not even with a certificate; alternatively you can bring a so-called faceshield with you or buy one here on site.)
Guided tours can take place. Please request for English tours if not offered.

The cloakroom is not open. Additionally, free lockers are available (EUR 1,00 deposit) where you can safely store your clothes and valuables. You may have to be patient here, as our lockers are quite narrow and we have to take care that the rules of distance also apply there. You can leave also leave big suitcases and strollers at the cloakroom.
Our cafeteria is open, please look here to our small menu.

Our parking lot is also open as usual.
Do you have questions about pre-booked tickets?
If you have any questions about tickets, guided tours or special events that you have already purchased, our Corona FAQ will certainly help you.