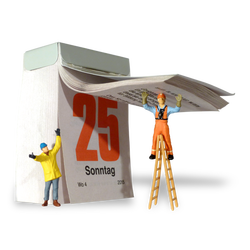 Visiting Miniatur Wunderland during Covid-19
Dear guests,
special times require special actions. As times are constantly changing, on this page you will always find our currently valid Covid-19 regulations. Please read them carefully before your visit.
No more rules
There are officially no more corona restrictions for the Wunderland. Since it is almost always packed in Wunderland, there is a lot of crowding, there are no longer any distances and there is really a real "closeness" like before, we expressly RECOMMEND wearing a medical mask, but leave the decision to you.
Disease symptoms

If you feel sick on the day of your visit or the days before, a visit to the Wunderland is unfortunately not possible. In this case, we ask you to postpone your visit: Change your booking here (a change of booking is possible, until the planned visit date, also initially without a new date on an indefinite basis, if you booked an experience as well, a rebooking is only possible until 48 hours before).

Rebooking
A few tips BEFORE your visit
Tickets should be bought online beforehand, payment on site is possible, but there are very, very few remaining tickets with sometimes considerable waiting time, especially during the Christmas holidays.
Please arrive here within your booked 30-minute entry slot.
You can leave your cloakroom in the entrance area, but there are also a limited number of lockers available.
Our bistro is open, the menu can be found here.
Do you have any more questions?
Pleas have a look to our COVID-19 FAQ's
What is it now? Vaccinated and recovered only or even tested guests?

There are no rules any more.

Do I have to wear a medical mask?

This is only RECOMMENDED.

I still have tickets / vouchers and would like to use them now, how do I do that?

Please go to our rebooking page to book your existing tickets for a new date. You will NOT receive any new tickets, your tickets will still be valid. You also don't need the e-mail that you just received in the end. You simply use your old tickets, the date printed is irrelevant, it is only important that these have been rebooked in the system. The display on the screen at the end of the rebooking is sufficient as confirmation! To rebook, please enter the TICKET NUMBER, not the booking number.

Rebook your tickets

I would like to book a backstage tour.

Guided tours are allowed again, you can book the tour with tickets here.

If you already have tickets, simply go to ticket booking and simply delete the tickets for entry from the shopping cart. When booking a tour, you do not need to take into account your booked entry time, because with the tour you automatically have preferred entry at any time before your tour without waiting.

If no English tour is listed, please contact us and we will see, if we can arrange a tour for you.

Buy your ticket

We cannot perceive our visit. What can we do?

You can either rebook your tickets directly to another date at any time BEFORE the validity date or, if you do not yet know when you can visit us, simply change the tickets to unlimited validity, then they will not expire and can also be used in the next or the year after next or even later. You simply keep the tickets after the change.


Rebooking

I booked the wonderland package at PierDrei, do I have to register in advance?

No you don't have to. Simply come to us with the tickets to the entrance, you can enter the wonderland at any time, your visit is factored in.

I have booked a travel package through Hamburg Tourismus / Hamburg Travel. Do I have to reserve admission?

If you have booked a travel package (with hotel and tickets) through Hamburg Tourismus and have received a blue wonderland voucher, you do not need to reserve an appointment. These apply exactly as stated on the vouchers.

If you still have a Hamburg Travel Ticket from the COVID period, when we were closed, please reserve an appointment.

Make an appointment for Hamburg Travel tickets

I have booked tickets through eventim, ameropa, DERtour or TUI, do I have to register them?

Is the stay in the Wunderland limited in time or in some other way?

Your stay is only limited by our opening times, which can be different every day. You will also find the current opening times in the ticket booking above and below. On average, our visitors spend 2.5-3 hours in the exhibition.

Opening hours

Everything sold out in ticket booking, is that really the case?

Yes that is correct. The demand is currently significantly higher than the supply of tickets.

We are still holding back quite a few tickets for spontaneous visitors, which can be bought at the cash desk, but only with a sometimes considerable waiting time. You can find our forecast in the ticket booking. These times are not not set, the actual time may vary in both directions depending on the crowds and weather. The waiting time must be waited in our waiting room. Alternatively, there are still quite a few time tickets for later, with which you can also spend the time elsewhere.

Please do not inquire about this by phone or email, we have no other allotments there, you can only book tickets on the homepage.

I don't have any of the possible payment methods, can I reserve tickets?

No, reservations are not possible.

However, you have the option of buying tickets via our online shop with advance payment / transfer and postage, but ATTENTION: The tickets can and must only be booked for an appointment after receipt. Due to the bank and postal delivery times, it can take up to 1 week from ordering to receiving the tickets, so this route is not suitable for short-term visits.

Order with prepayment / bank transfer
I bought (e-) tickets for one day in the period March 16-19, 2020 or November 2nd, 2020-26 May 21st, when it was definitely closed. What is happening to it?

If you have bought an (e-) ticket for a day that falls between March 16 - May 19, 2020 or November 2, 2020 - May 26, 21, when we were officially closed, you do not need to worry about losing your tickets they will not expire, I promise. You don't have to do anything at first, except pick up the tickets. We have already removed the date link on your tickets and made your tickets into vouchers valid for an unlimited period of time; these can still be redeemed in 2022 or later and will not expire.

We would be delighted if you could visit us at some point. If you have found a new appointment, you can easily book the tickets again on www.miwula.de/vip for the appointment in order to avoid possible waiting times. Of course, you can also come to us spontaneously, but you may have to expect waiting times. Then just bring your tickets back with you.

I have booked a ticket for an evening event (Big Tubs & Small Trains 20.05.-30.06.20 and 02.11.20-26.05.21) or Wunderland at Night or Culinary Trip around the World, what happens to the tickets?

In the case of tickets for canceled evening events, we automatically remove the date binding and convert them to unlimited vouchers that you can book again at any time for a new available date. Just keep the tickets. If you have a new appointment in mind, you can book it again for the new date at www.miwula.de/vip. Since the places at the special events are limited, a rebooking is mandatory in this case.

Big Tubs & Small Trains take place, tickets can be rebooked. For tickets with a 10% discount, please send an email with your desired date, as you cannot currently book the tickets yourself for an appointment.

The Wunderland at Night and the Culinary Trip around the World take place again. Dates are available until January 5th, 2025, further dates from are planned and will still be published. Please refrain from inquiring about appointments, we will not answer them, please wait until they are published. The tickets remain valid in any case and do not expire.


Rebook your tickets

What happens when the Wunderland has to close again?

The case is now quite unlikely, but if it does happen, don't worry about your tickets, they won't expire, I promise. Then you don't have to do anything at all, except to pick up the tickets. We will automatically remove the date link on your tickets and convert your tickets into vouchers that are valid for an unlimited period if this should happen again.

We would be delighted if you could make up your visit to us at some point. If you have found a new date, you can easily book the tickets again on www.miwula.de/vip for this date in order to avoid possible waiting times. Of course, you can also come to us spontaneously, but you may have to expect waiting times. Then just bring your tickets back with you.

Regardless of this, you can also rebook your tickets for another day in advance.

Rebook your ticket or change to valid indefinite

I have tickets and want to reschedule my appointment. What can I do?

No problem at all, you can simply rebook your tickets for a new date at www.miwula.de/tausch at any time before the validity date or convert them into unlimited vouchers, which you can then book later for a new date. Since we are currently unable to plan well, the latest information is only available a few weeks in advance. You can find more detailed information on our homepage.

This applies to tickets for our special events as well.

Rebook tickets

In addition to the tickets, I have ordered vouchers for a harbor tour, city tour and / or the Hamburg Dungeon. What happens to the vouchers?

The vouchers are not tied to a specific date and can be redeemed at any time, nothing has to be done here, they are definitely valid indefinitely.

To visit the Hamburg Dungeon, you must reserve a date and time free of charge beforehand, go to: https://www.thedungeons.com/ha... and there under the item: Time slot reservation You can use advance booking tickets to make the reservation. Spontaneous visits are currently not possible.

Can I also give away my tickets or vouchers?

Of course this is possible, the tickets are not personal. Simply pass on the tickets, also electronically.


I want to cancel my tickets, is that possible?

We would very much regret this and ask you to give it a second thought. Your tickets are definitely valid indefinitely and you can book a new date at any time at

https://service.miniatur-wunderland.com/tickets/change/. Let's hold on to the old saying: Postponed is not canceled.

Should you still want a cancellation, we will respect this in this situation. In this case, please simply reply to your confirmation email and we will have all the data we need. The reimbursement will only be made using the payment method (i.e. exactly the same way as the payment was made, either by PayPal, credit card or bank transfer, no option). We cannot comply with requests for bank transfers. Please do NOT send us any account details or the like, unless we request them in individual cases.

A free cancellation option only applies to tickets valid for the lockdowns from 16.03.-19.05.2020 and 02.11.-26.05.2021.


Rebook tickets or change to vouchers valid indefinite
Tickets from other pre-sale agancies
If you didn't buy your ticket directly from us but from eventim, Hamburg Travel, ameropa, dertour, Tui, Hamburg Tourismus, Pier 3, GetYourGuide or Hamburg Tourist.info, you don't need to be afraid, these tickets won't be available either expired. Here is the information about the individual providers:
eventim, Tui, Amerop, Dertour or Hamburg Travel

We will still redeem your tickets after the printed validity. All you have to do is book a new date for the tickets.

make an appointment

Hamburg Tourismus (Hotel package) or Pierdrei

Of course, we will also redeem your voucher at a later point in time. Just keep it and bring it with you on your next visit. The vouchers are not tied to a specific date.

GetYourGuide or Hamburg Tourist.info

We have removed the date of your tickets and set them to "always valid". You can redeem your tickets with us at any time on any day, just come by and bring the ticket with you.

This only applies to tickets whose date fell on either of the two lockdowns.

I want to cancel my tickets / vouchers. How does it work?

We have urged all partners to act as accommodating in this situation as we do and to reimburse you for the tickets. However, since you did not buy the tickets or vouchers from us, you must contact your contractual partner. If your contractual partner refuses, please forward the rejection to us by email: info@miniatur-wunderland.de, we will then find a solution together with you.
How to contact us
If you prefer, please use the contact form to contact us. If the processing may take some time, please be patient with us, but we will do our best, but not sit around the clock at the computer. You can also call us during the day at +49 40 300 6 800 (Mo-Fr 8am-4pm), but we currently have a lot of calls so you may not get through directly. We don't have a hotline or call center.
Please also check whether your question is not already answered here in the FAQ, you will help us with it. Please believe the information on this page and DO NOT ask if this is really how it is here ... YES, it is exactly the same.
Your message has been sent.
We will respond to your inquiry as fast as possible, normally within 1-2 business days....
All the Best,
The Miniatur Wunderland Team