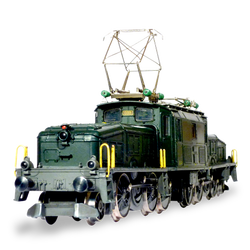 Coupling
There is a large choice of model train coupling by all manufacturers.
At the Miniatur Wunderland we use close coupling for the freight trains and secure them additionally with shrinking tube. This holds firm and the danger of losing a wagon is zero.

For passenger trains we use current-carrying couplings, which forward the power from the locomotive to the car. They are needed if the cars are illuminated and not every car is equipped individually with a current pick-up.
In the America section of the Wunderland we use jaw couplings for freight trains, as they are common in America.
Please note
This article is based on model building wiki and is edited externally. We strive to keep the contents clean but cannot guarantee trouble free operation.