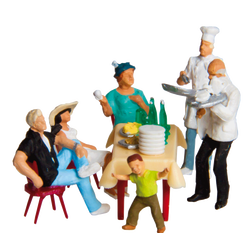 Food & Beverages
Don't worry: Food & Beverages aren't served at miniature scale!
The Wunderland offers food & drinks at fair prices. Our two restaurants invite you to relax.


NEW: THE WUNDERLAND DINER
The Wunderland now offers you two restaurants to choose from! In addition to the Bistro in the main building (2nd floor), there is now also the Wunderland Diner in the building next door (2nd floor), directly at the transition to the VR experience of YULLBE-WUNDERLAND.
Find out more about our current offers and prices here.
It's fun to eat at our bistro! The seats were carefully designed and you can either sit in one of the train compartments or in our lounge and watch the goings-on. We offer something for every tummy at every time of the day. Information can be found here in our menu.
Pricing is important to us. In contrast to other leisure-time attractions, our prices are quite moderate and we strive for offering good quality at affordable prices. In fact, we think that we reached that goal in our restaurant.
Our restaurant opens at the same time as the Wunderland. In the morning, we offer fresh rolls, coffee and tea. From about 11 a.m. on, lunch is available, but if you like, you can get something to eat before then. Often, our restaurant is open until late in the night. It closes one hour before the Wunderland itself is closed. In short: No matter what time you arrive, we'll be there for you.
You are very welcome to sit in the restaurant without consuming anything, and bringing your own food and beverages is definitely permitted.
After a walk over the glass bridge (at Provence) into the next building, you will find our Wunderland diner on the 2nd floor!
Here we offer tasty burger dishes in an extraordinary ambience. You can choose between different burgers made from regional organic beef or a vegan alternative. Coffee and delicious cakes such as brownies and New York Cheesecake are also waiting for you.
You can find more information about our offer here in our menu.
Located directly next to the passage to the VR world of YULLBE WUNDERLAND and the 3D scanner, the Diner invites you to enjoy your stay for a while.

Our Wunderland Diner opens its doors every day from 11am and closes between 6pm-7pm depending on opening times. Outside these times, you will find further food offers in our bistro.

The children's restaurant
Children are definitely welcome at our restaurant. That's why we set up an area with a large play corner were kids can play and eat. Here, the adults don't have to apologize, because we want the children to have fun! Please get your meals and drinks at the large counter and make yourself comfortable in the adjacent room for families and children.
Of course, we offer meals for kids, i.e. our pasta for children at a price of Euros only. Next to the childrens' restaurant, there is also a cinema for the little ones, and a childrens' toilet with a diaper change station.