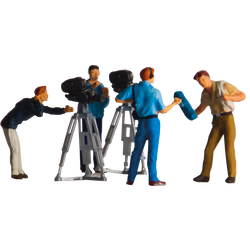 Wunderland Special - Patagonia comes to life
Our mechanics team is working on push-button actions for Patagonia. In the current video we show what can be brought to life soon.
The first part of our latest section, Patagonia, is almost finished. The modelbuilders are busy decorating the beautiful landscape and the electronics team is also doing its part:
There are a lot of small but nice push button actions being created all over the layout, which you can already admire in this episode.
Join Mohamed's gyrating penguins, Sveno's motorcross rowdy, Moritz's sheep holding up the railroad, Felix's turntable and Marvin's trolley in the "Ingeniero Jacobacci" station.