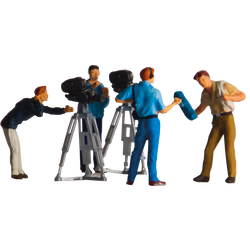 Wunderland Special: A City Devided 2.0
Our special exhibition "A City Divided" is growing: For the celebrations of this year's German Unity Day in Hamburg, we are building two new dioramas of our time travel through Berlin's history. Sönke gives an overview in the current video.
Together with the "Landeszentrale für politische Bildung" we designed seven dioramas on the division of Germany in 2008. Starting after the war, through the building of the Wall to the fall of the Wall, we show German history with a fictitious crossing in Berlin. After all these years, the German Unity Day celebrations are back in Hamburg, so we decided to build two more dioramas - about the 90s and 2000s. In this episode Sönke shows you the first diorama and takes you on a journey into the past. Enjoy watching!