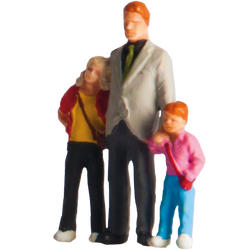 Miniatur Wunderland against exclusion
Why we are starting a non-recovered and non-vaccinated visitors alternating model from December 1st, 2021
In Germany, there are currently two widely used models for admission of vaccinated, recovered or tested visitors to public places:

"3G" (from German "geimpft"/vaccinated, "genesen"/recovered and "getestet"/tested): allowing vaccinated, recovered and tested guests
"2G" ("geimpft", "genesen"): allowing only vaccinated and recovered guests
For months, there has been a discussion in Hamburg, but also in our team, as to why the Wunderland isn't switching to the 2G model. First of all, for all non-Hamburgers to understand: In Hamburg we can choose between 2 different models:

Continue in 3G mode with distance rules and significantly less capacity, i.e. large revenue losses that do not allow a financially meaningful operation, OR switch to…
2G, but this would mean an exclusion of unvaccinated adults. (Under 18s may enter WITHOUT vaccination until at least December 31st, 2021). With 2G we can almost do what we want. We could even fill our exhibition with 100% of visitors without any masks again.

We have given up a large part of our turnover month after month in order to maintain a solution for everyone. But especially during the holidays we experienced terrible scenes at our cash desks. Crying children, angry parents and by now a completely energy-depleted staff which has to send home thousands of people every day. Although we could have let in more than 2,000 to 3,000 more guests every day since September if we had switched to 2G back then. 2,000 people who, in the broadest sense, have been excluded by us every day through our decision for 3G, as with 3G we are allowed to admit fewer guests.
We have evaluated a few days now and we were shocked. Out of 2,000 guests, just 30 adults were unvaccinated. Even though we shout out loudly on every channel that you can visit the Miniatur Wunderland unvaccinated! The exclusion does not take place through the 2G decision, it is already accomplished in society! Whether through media, paid tests or fear, unvaccinated people already seem to be so marginalised that they do not take many 3G offers anyways. In other words, and hopefully through this, a better understanding for a change in Miniatur Wunderland: For about 30 unvaccinated adults every day, we have been unable to admit thousands of people daily for the past few weeks and, in addition, have threatened our financial situation.

On top of that, due to the low capacity, we have had to open from 7am to 1am almost every day since July, to be able to let in at least a few more guests. But our team and our railway system can not stand that any longer. We need time to take a breath and to finally find a solution.
Already at the beginning of 2021, we said that we do not want to exclude unvaccinated people and proposed a simple idea: 2G and 3G days. Due to the current situation, we have to come back to this suggestion. Actually, we would have to switch to 2G completely, but we can't agree this with our attitude. That why we will try the daring compromise. On weekdays from Monday to Thursday, 3G remains. These days have to be 3G from our point of view, because we have about 10% of our employees who are unvaccinated. These 10% are no longer allowed to enter the Wunderland on the 2G days. With this solution, we have a compromise that we believe is good for all parties.
It is important for us to say, that we from the Miniatur Wunderland would actually like to get a 3G rule in Hamburg without distances but with a mask. We keep our fingers crossed that the incidence value will allow this soon and we can and may be as we want to be again. By the way, from an epidemiological point of view, we will continue to require wearing masks on 2G days.
We expressly ask those who do not agree with this solution for their understanding. There is no perfect solution that fits for each and everyone. Please try to put yourself in our shoes and believe us, there are sleepless nights, near heart attacks, existentially threatening and an incredible number of emotional moments behind us whenever we make such decisions together with our team.