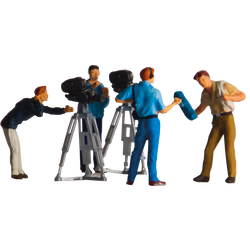 The Wunderlandians #34 - Patagonia: Glacier ice breaks off
At the moment all Wunderlandians are working under high pressure on our South America section Patagonia and Antarctica.
In the South American Andes is the largest glacier area in Patagonia. One of the most famous among them is the Perito-Moreno. This glacier is one of the biggest tourist attractions in Argentina and is part of the Los Glaciares National Park, which is classified as a UNESCO World Heritage Site.
We felt it was particularly important to depict the breakup of the glacier. To do this, we conducted a variety of tests with real water and real ice, but in the end we decided to use a mechanical system because of the inertia of the ice. When the glacier ice breaks off, there is still a lot of air trapped in the water, which rises out of the water when it resurfaces.
Felix tries to technically implement this natural spectacle in this episode. Have fun watching!