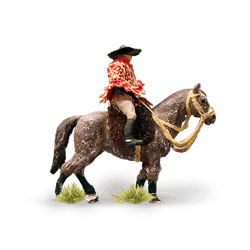 After four years of construction: Patagonia opening in video - Wunderland Special
Patagonia is finished! How we celebrated the opening of the new section in Wunderland, we show in the latest video.
Our new sections Patagonia and the Antarctic can be visited since May 3rd 2023. We invited polar explorer Arved Fuchs and Hamburg's second mayor Katharina Fegebank to the opening ceremony. The gates of the two new natural sections of the Miniatur Wunderland were opened with a ship's foghorn and a great storm with thunderclouds, thunder and lightning over the Drake Passage.
Where Antarctica still makes you shiver, in Patagonia, despite the seemingly endless expanse of the prairie, a feeling of home comes over you when you look at the lovingly designed scenes of the inhabitants.
Immerse yourself in a world of wild and rough seas, the smallest narrow-gauge railroad on our layout, romantic sunsets, wild and dangerous animals, playful details, rugged cliffs and icy seas. We will show you the beautiful natural spectacles like the Drake Passage, the Perito Moreno Glacier, the Fitz Roy and the Torres del Paine, lovingly designed gauchos, the selfmade trains of La Trochita and Tren Patagónico. Let yourself be enchanted and enjoy the view! Have fun watching!