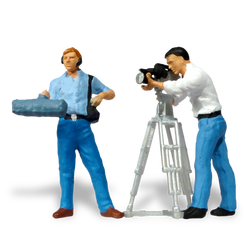 Miniatur Wunderland XXL - Premiere of the 3rd season
On Saturday, October 8 at 3:50 p.m., the TV channel NITRO will start with exclusive new episodes of the documentary series Miniatur Wunderland XXL. We are insanely looking forward to seven brand new episodes of the successful format!
The reportage specialists, who have been accompanying the Miniatur Wunderland with their cameras for more than 20 years, were again up close and personal last year and accompanied the Wunderland team around the Rio opening. In the months leading up to the opening of our new store and the Rio world, seven new episodes were created, which can now be seen for the first time on NITRO.
The new episodes of the unique series can be seen on October 8 at 3:50 p.m. only on NITRO.