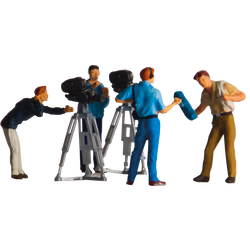 Lockdown-Update #12
The new episode of the lockdown update revolves around the construction progress in the new building. There are also some open questions that we look forward to hearing from your opinions.
In this episode, Frederik guides you through the section in the new building. You can also help us to decide how to proceed with this format and the new area.
What should the series be called in the future?
Should the bridge be used entirely by railways or should it be partially tunnelled?
Single track or double track?
High-speed trains or other?
Which two-rail track is magnetic?
Which new section do you wish for? Africa, Asia or Fantasies?
Should the railing over the Andes be straight or sloping?
Which special exhibition do you still remember?
Tour with a red thread or freely explorable?
What else do you want to see from the new storage facility?