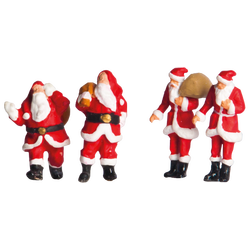 Knuffingen lists miniature apartment on Airbnb
Knuffingen has always been a pioneer in the history of Miniatur Wunderland. And therefor the small town lists one of its most beautiful houses on Airbnb just in time for Christmas season. You can only move in as a guest if your body size does not exceed 2 cm - but it is still worth it to make a booking: The proceeds from all bookings go to the charitable organization Hanseatic Help.
The Knuffingen Airbnb-Apartment is hardly bigger than a small lunchbox - but this should not deter you from booking. The beautiful two-storey redbrick house, located in the heart of Miniatur Wunderland, offers comfortable space for (literally) a small family. However, if you are unable to shrink to miniature size (max. 2 cm!) by the time you start your journey, there is no reason to worry that your booking will expire. Your friendly landlady "Mini Wunderland" simply forwards the amount of your booking (only 10 $/night) to the non-profit organization Hanseatic Help, which helps people in need.