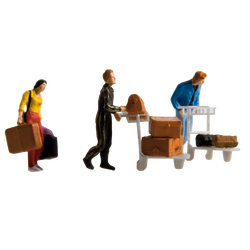 Carnival in Rio de Janeiro
How do we make custom-made items for the Rio Carnival and how is the construction of Patagonia going? All of this can be seen in the current video.
The work on our new section "Rio" is entering the final phase. Our technical team faces one of the greatest challenges in the history of the Wunderland: the carnival with thousands of lights, dancers and lots of mechanics.
Whether all of this will work is still unclear. Arne decorates one of the countless festive floats that liven up the carnival at the push of a button. Together with the Samba school Unidos de Hamburgo, we create special, 3D-printed figures that fill the carnival parade with authentic life. This week, Bobby takes on the decoration of the printed figures to visually represent the glamor and rhythm of the Brazilians.
We will show you the substructure of Patagonia that will support this huge construction section. Last but not least, one of the most important train stations will be completed.