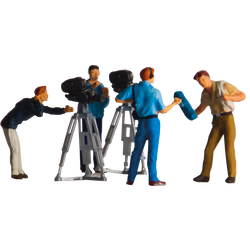 How to build South America #2
Germans and South Americans build South America in South America so that South Americans later recognize South America as South America in Germany and not as South America that was built by Germans in Germany and does not look like South America to South Americans. But look for yourself!
Info: We build South America. In three parts! Part 1 is currently under construction: Rio de Janeiro. Part 2 starts in spring: Patagonia, Antarctica and rainforest. We want to open these two parts around the end of 2021 on the other side of the Fleet, connected with a great bridge to the neighbouring storage. Part 3 will be Central America and will take another 3 years. And the highlight: Our model builders build South America on location in South America together with a wonderful, model-mad Argentinean family so that it becomes quite authentic! The parts are then shipped to Hamburg and then again the South Americans are with us for half a year and we build the rest together in Hamburg. This is already a huge adventure for everyone involved.
Many more information and background stories wait for you on our blog "Viva la Miniatura".
Let us know what you think about this crazy project via YouTube or Facebook.