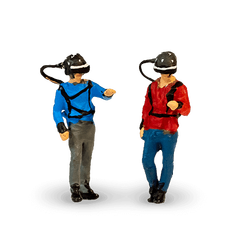 Good Vibrations: New technology for virtual reality experience
Since 2021, you can experience Miniatur Wunderland from the perspective of a model figure in our two virtual reality experiences. Our 30-minute adventure is now equipped with completely new VR technology including vests for haptic vibrations.
Just about 1.5 years after the opening of our virtual reality experiences, which we developed in collaboration with Europa-Park, more than 200,000 guests have already been able to experience the Wunderland in a very special way. In our 10- or 30-minute adventures, the miniature world can be discovered from the perspective of a model figure. Our experiences are constantly being further developed both technically and graphically. For example, the technology of the 30-minute experience has now been updated.
A new highlight: vests that transmit haptic vibrations by means of 40 vibrotactile motors, making the experience seem even more real. The VR equipment, which previously weighed almost 6 kg, is now lighter thanks to new VR goggles, making it more comfortable to wear. The new kit also eliminates the need for a backpack computer. The underlying technology, which captures movements thanks to more than 150 tracking cameras in the room and transmits them to the digital twin, remains the same.
But that's not all: A new version of "The Crazy Shrink Tour" is in the starting blocks and we can look forward to seeing which Wunderland locations will soon be added to the adventure.
Fancy a virtual reality adventure?
The best thing about it: If you also book Wunderland tickets for the same day, you will also get a discount and can preferentially visit Wunderland at any time on that day.