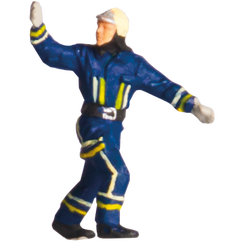 Gerrits Tagebuch #86 - Hamburg's first electric fire department!
This time, Gerrit's diary is not about Formula 1, but about the fire department, a topic that is at least as popular.
Since the beginning of the Miniatur Wunderland, it has been impossible to imagine the layout without the fire department. The Hamburg fire department has always served as a role model - when they had a new vehicle, we copied it. But now we are turning the tables! Although there are already many renewable energies to be seen in the model scale, we also want to bring it onto the road. The debut will now be three new electric emergency vehicles for the fire department.
They are already in use in Berlin, the turntable ladder so far only in Switzerland. But we hope that with this step we can now set an example for the Hamburg fire department and that we will soon be able to admire the vehicles on our streets as well!