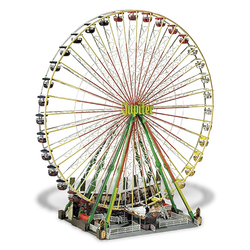 Gerrit's Diary vol. 68
The 68th episode of Gerrit's diary is here and takes Gerrit and a team of Wunderlandians south and high up.
Blue Fire, Silver Star and Wodan are the most famous roller coasters of Europa-Park. In episode 68 of Gerrit's diary, Gerrit and his team visited Mack Rides, one of the best manufacturers of roller coasters and other amusement park attractions, in Waldkirch near Freiburg. There is a reason for this: Miniatur Wunderland has to do research regarding the dream of a roller coaster for the new fair.
In order to fulfil this research assignment, Wunderland was allowed to look behind the scenes of Mack Rides and then (in the next episode 69) also get a taste of roller coaster air at Europa-Park. There's hardly a better way to do research :-)