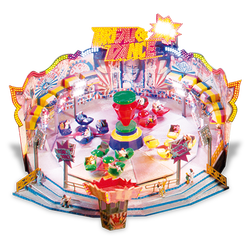 We're building a fun fair!
As they say: All good things come in three! And that's why, in addition to Monaco and Provence, you can now find a third major construction site in Miniatur Wunderland: The fun fair.
Attentive visitors may have already noticed: Behind the scenes of Wunderland, people are once again busy tinkering and building! Not that we would ever not do this, but the current energy is used for a very special project. Because 18 years after its construction, the fair in Central Germany will be completely renewed.
The original area will be more than doubled and in the upcoming months a superlative fun fair is to be created at this location. It will immerse visitors in a colourful world of thrills, luck of the draw, candy floss and much more.
You can read more about what to expect from our latest addition to our layout here: