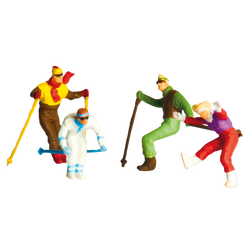 An era comes to an end - farewell to Gaston
Our dear Gaston, model maker since day one in the Miniatur Wunderland, is retiring. Together with Frederik he talks about the most exciting and funniest stories from 20 years of Wunderland. At his request, his tool box will be auctioned for a good cause.
His character, the bridges and his appearances on YouTube, Facebook and in various TV shows will make him unforgettable. Gaston is now saying goodbye to his well-deserved retirement and taking us through the wonderland for the last time. We recently asked Wunderland fans what they always wanted to ask Gaston. In our latest video, Frederik talks to Gaston about his favorite stories and asks one or the other desired question. We learn all kinds of anecdotes, from his application to the first bridge construction to hidden scenes that even Frederik has remained hidden until now.
Where would Gaston like to live in Wonderland or for which building did Gaston receive support from Wladimir Klitschko?
The 30-minute broadcast is only the first part of our special edition, which makes you want to hear more exciting stories from Gaston.
Gaston will be missed in Wunderland as a kind-hearted person. Gaston has always been particularly concerned with children. At his request, his tool box is now being sold for goodbye and is being auctioned on Ebay. 100% of the proceeds will go to the association Wunschdirwas e.V.
The auction starts on Monday, June 14th, 2021 and ends on Monday, June 21st, 2021.
In addition to countless tools, there are also unique items such as the former lighthouse from the Hamburg Wadden Sea, a "star cut" or his Knuffingen sweat jacket.
From June 14th can be eagerly bid via the following link: