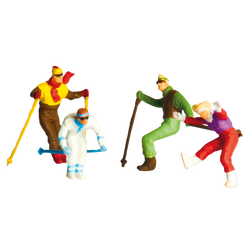 Farewell to Gaston - The second part of our special episode
Our dear Gaston, model maker since day one in the Miniatur Wunderland, is retiring. In the second part of our special episode, he and Frederik talk about the most exciting and funniest stories from 20 years of Wunderland. The auction for his toolbox is only running for a short time.
The legend of Gaston continues: he visited Bob Marley, hates plastic since he was born and if he builds something, then it fits.
Now Gaston is saying goodbye to his well-deserved retirement and takes us a second and last time through the Miniatur Wunderland. In the new video, Gaston shows his favorite buildings, tells of the greatest challenges, the funniest stories and one or two outbursts of anger.
Gaston will be missed in Wunderland as a kind-hearted person. Gaston has always been particularly concerned with children. At his request, his tool box is now being sold for goodbye and is being auctioned on Ebay. 100% of the proceeds will go to the association Wunschdirwas e.V.
The auction ends on Monday, June 21st, 2021 at 8 pm.
In addition to countless tools, there are also unique items such as the former lighthouse from the Hamburg Wadden Sea, a "star cut" or his Knuffingen sweat jacket.