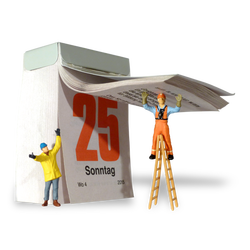 Annual report 2018
It's that time again: A year is coming to an end and for us this means taking a short break and looking back on 365 great Wunderland days in 2018.
For the fifth time in a row we started the new year with our campaign "I can't afford it", which has grown very close to our hearts. In January, we invited all those who simply can't afford the entrance fee to Wunderland to join us free of charge. We had the pleasure of welcoming more than 20,000 guests who took this opportunity in 2018. And at this point we are very optimistic that the campaign will be repeated at the beginning of 2019. Just keep an eye on our Facebook profile!
And because one highlight chases the next, we dressed up immediately afterwards to welcome our newest, smallest and per square meter most expensive section in Wunderland: VENICE! The small lagoon town has been part of our layout since 21 February of this year and demonstrates on 9 square metres what happens when the Wunderland model building department decides to build "as detailed as possible".
After opening up a new section is of course always before the opening of the next one, because the Wunderland is far from finished. As soon as the last Venetian Wunderlandian had been glued and the last gondola had been placed on the Canale Grande, preparations for the next major construction phase began: Monaco and Provence will be built in the immediate vicinity of Italy. Backstage, however, intensive work has been going on for more than four years on the development of a Formula 1 circuit. The big dream of a Grand Prix in the middle of Wunderland is becoming more and more within reach. Gerrit and his team made great progress in 2018. In the current episodes of Gerrit's diary you can watch the first test drives and lane changes in the Formula 1 laboratory.
Just in time for the 1st of April we did not miss the opportunity to prank our visitors. Or did Gerrit make a fool of Frederik? Or did the model builders made fun of Gerrit? The April fool's joke hidden in another April fool's joke caused a lot of confusion, speculation and laughter. Here you can watch the video and if you want to be sure, who has been kidding whom in this Meta-April fool's joke, you can also watch the resolution.
A special amount of effort and love was put into the renovation of the Austrian section in 2018. The "founding member" of Wunderland has been beautified at many corners in the past months and enriched with highlights. Thanks to the "Schloss am Wörthersee", the edge of the layout now shines in royal glory, a thunderstorm is gathering over the Alps at the push of a button (a great project by our two technical trainees!) and the Wunderland skiers can recover from their day on the slopes in Austria's highest café.
But not only Austria was enriched by highlights in 2018. In Hamburg we were able to win a new honorary citizen. Otto Waalkes, a famous German comedian, performs scenes from his show "Holdrio Again" at the push of a button in front of a sold-out audience. Not only the "Ottifants" flock in droves. Also among our visitors it comes to pack forming, when Otto enters the stage under thunderous applause. The development of the Otto stage, which is a replica of Hamburg's "Mehr! theatre", can also be seen here.
We never made a secret of our love for the fire department. There is a good reason why a fire breaks out every few minutes somewhere in Knuffingen and the emergency services have to move out. The lack of volunteers, especially the volunteer fire brigades, concerned us in a special way. So we decided to produce one of our most clicked videos in 2018: "The last one puts out the fire" is the name of the short film, which is intended to shake up and motivate people to think about volunteering at the fire brigade or another charity organisation. Up to now, we have been able to reach more than six million people with our video on Facebook alone. If you are not yet one of them, then take a look here.
Speaking of support for charitable organizations: This year the great organization "Ein Herz für Kinder" had the pleasure to receive a donation of 41.800 Euro from Wunderland. We would like to take this opportunity to thank all of our great visitors, who have contributed a part to it. Because the proceeds are the result of your ticket purchases for the Helene Fischer Concert and your donations at the Trevi Fountain in Wunderland Rome We hope that you enjoy your long-term concert experience and that all your wishes have been fulfilled by tossing coins into the fountain. A thousand times THANK YOU for your support!
We are also approaching the end of this year's review. The year has come to an end with a video that is particularly important for us. About seven years ago we already produced a "Wunderland-in-5-Minutes-Video", which became a little viral sensation. The video has been watched countless of millions of times to this day and has made Wunderland known all over the world. After such a long time, however, it became a bit outdated at some point, as three of our latest sections were completely missing. So it was time to shoot a new video. You can take a look at the result herehere. Dive into the world of Wunderland and we will be very happy if you share it with your friends, families and relatives :-)
At the same time we would like to close our annual report with a small view into the future. In November, our annual "KITA-days" started again, reaching into January 2019. Around 25,000 registrations have been received so far and we are looking forward to the nursery children from Hamburg being able to make use of the still available dates in the new year. The season in which the average age of our visitors is drastically reduced by this special event always belongs to the very special times in Wunderland. Despite the gloomy autumn and winter days, the crowds of shining children's eyes let the sun rise in Wunderland.
2018 was another unforgettable year for us and we look forward to the next 365 days.

The whole Wunderland wishes you and your loved ones a Merry Christmas and a good start into the year 2019!