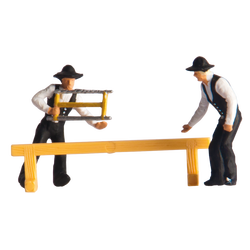 1,000,000 construction hours achieved!
A magical number has been reached: an incredible 1,000,000 hours of love, creativity, perseverance, passion, dedication - but also sweat, effort, sore muscles and setbacks have now been put into the more than 1,500 square meters of model space of our Miniatur Wunderland...
1,000,000 hours - that's more than 41,666 days, around 6,000 weeks, over 1,360 months, or even 114 years.... Or for friends of soccer: During the construction hours of the Wunderland, one could have watched 666,666 whole soccer matches, i.e. 36 times the entire matches of the 1st Bundesliga since 1963! That's how much time the hardworking Wunderlandians have spent together in the meantime to create more and more new miniature worlds.
In view of these crazy numbers, it is not surprising that the construction of some figures meant whole days of work, while buildings took weeks or months and new worlds even several years of diligence and love. The construction of the Elbe Philharmonic Hall took a whopping 13,000 hours, the Colosseum required 23 months of work, and the airport's 150,000 hours of labor would have kept a single person busy for 17 years if he or she had done nothing else around the clock for that long.

To celebrate this crazy milestone and to create a small memorial to the team's incredible achievement, we created a video that visually tells the story of the 1,000,000 hours of construction.