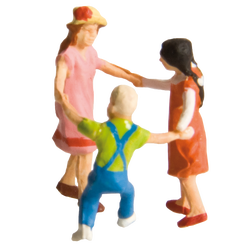 Donation Pins and Magnets
We live in a rich part of the world. Many of us are doing well to very good - but looking at the rest of the world though, we are doing excellent and outstanding.
Background Information
Fortunately, there is a great will to help the less privileged and generous amounts of money are donated for the good cause. Still, every day around the world thousands of children are dying who, had their fate been different and were they born in rich countries like Germany, probably would still be alive today. But also in Germany there are poverty and illnesses, which hinder children from having the harmonious and care free childhood that most of you probably had.
We are only a small middle class enterprise, but we are lucky to draw quite a bit of attention. We have already used this attention in the past to support charities, including donations from ourselves as well. Both of this shall bring a lot more money in the future for the good cause.
Now we have come up with a special campaign: Many people have asked us about pins from the Wunderland in the past. Since 2007, we release a new collectible pin every month, and since 2010, we offer collectible magnets as well. The pins and magnets of each annual edition share a common theme, e.g. a section of the layout or special vehicles. They cost 2.90 Euros each, a standard market price - but in our case, it is entirely forwarded to the respective recipient of the donation, as our share of the donation are the manufacturing costs for the pins and magnets. We don't deduct them and donate the total gross turnover from the sale. Until 2009, we have had an edition of 2,000 pieces each month, each raising 5,800 Euros (2,000 × 2.90 Euro). In 2011, we decided to manufacture pins in different quantities (1,000 to 2,500 pieces) therefore they generate different amounts of money for donation. The pin with the highest number of votes generates the highest amount of money.
We hope everyone will join in! The exclusive annual edition set with a special additional pin or magnet can be purchased in our Onlineshop. All buyers of this annual edition set have the possibility to decide which institution or cause shall be recipient of the donations. We look forward to your participation!
Thank You,
Miniatur Wunderland Hamburg
Current Pins and Magnets
Ever since 2007, we release a new pin, as well as a magnet (since 2010), every month, with the most beautiful Wunderland scenes for collectors to buy. The entire turnover of these sales (and we are not deducting manufacturing costs) is being donated to a good cause - different ones every month. The buyers decide to which cause or institution the proceeds should be donated. The pins and magnets can be bought separately or as annual collections, which include a bonus pin or magnet. A pin or magnet costs 2.90 Euros each, and will hopefully be purchased by all our visitors at our Onlineshop or within the exhibition.
Current Suggestions
Who shall receive the donation money?
Every quarter the buyers of the donation pin annual edition may choose the three institutions who shall be pin partners for the next three months. The suggestions for the institutions come from you.
In order to keep the list at a manageable length, at every vote the last three places are taken from the list and can't be voted for again at the next election.
1.) Hanseatic Help
Hanseatic Help has been supporting and providing for people in need since fall 2015, distributing donations to charitable organizations. We have supported refugees, homeless, women's shelters and orphanages in Hamburg and surrounding counties with clothing and other articles of necessity for everyday life. Our honorary association does not only provide regularly for 150 institutions for people in need in Hamburg, but also delivers aid supplies to regions of crisis such as Syria, Iraq, Greece, Sicily or Haiti. Thousands of people have been initially provided with clothing and articles of hygiene.
www.hanseatic-help.org
2.) Nestwerk e.V.
Especially young adults living in inner city regions lacking of infrastructure need adequate, continuous and gratuitous leisure time facilities to break through the vicious circle of poverty and neglect. State funding, due to empty cash reserves, isn't enough, civic envolvment and practical help are needed. NestWerk sees its main role in offering low-threshold leisuretime and sports activities to help the children long term:
www.nestwerkev.de
3.) Hamburg Leuchtfeuer
Hamburg Leuchtfeuer ("Hamburg Beacon") aims at empowering people with a serious illness to live a self-determined life, thus enhancing their quality of life despite their respective condition. Hamburg Leuchtfeuer offers assistance in the patient's home even at an early stage. It also runs a hospice center thus providing a place where people can live pain-free and with dignity for the time they have left. Hamburg Leuchtfeuer was founded in 1994 as a care organization for people suffering from HIV and AIDS.
www.hamburg-leuchtfeuer.de

4.) Mission Lebenshaus / Kinder- und Jugendhospiz
On August 20th 2014, the Angelika Reichelt Kinder- und Jugendhospiz Joshuas Engelreich ("Angelika Reichelt Children's and Youths' Hospice Joshuas Engelreich") was opened in the city of Wilhelmshaven. From the very beginning our house was meant to be a place to live, laugh and mourn. We provide help and support for children, teenagers and young adults with terminal diseases as well as their families in times of need. Unfortunately, official funding covers only 50% of the overall costs for care, support, housing of our guests and their families, thus we depend on fundraising for the remaining 50%. Please help us help young people and their families by contributing to our pin donation campaign, so that they can get relief and support in the remaining time to the end of their lives.
www.mission-lebenshaus.de

5.) German Doctors - Hilfe die bleibt
"German Doctors e.V." (German Doctors registered association) - the name says it all: We are an NGO that sends out doctors on a voluntary basis to health projects in the Philippines, India, Bangladesh, Kenya and Sierra Leone. We strive to ensure a life in dignity and provide medical care and education for people in need in the respective countries. We also offer preventive care like nutrition and hygiene education in order to improve and ensure our patients' health on a long term basis. We provide assistance regardless of race, religion, nationality, political affiliation and other characteristics. Our doctors work completely free of charge either during annual vacation or retirement for a period of 6 weeks.
www.german-doctors.de
6.) Viva Con Agua
Water - together with air - is the most important element of life. Only with water, life can be created, water is life. Water is the necessity for a healthy and happy life. This simple truth is the motivation for Viva con Agua de Sankt Pauli: They initiate and realize water related projects in order to enable access to clean water for humans throughout the world. Unfortunately, many people on our planet are deprived of uncontaminated water. The Viva con Agua donation pin is meant to enable the construction of a water well in order to supply a whole village in a developing country with clean drinking water, thus protecting the inhabitants from diseases and affliction.
www.vivaconagua.org
7.) KULTURISTENHOCH2
Joy and participation for the poor elderly- against isolation and loneliness
This offer enables senior Hamburg citizens with little money and restricted bodily abilities to partake in cultural life. They are accompanied by high school students 16 years and over from their area. This way the seniors, who are poor due to their age, can still be part of cultural life and be integrated into society. Culture is the possibility to bridge the gap between generations- enabling contact and solidarity in the city's quarters. Young people learn to take responsibility and engage themselves for their quarter and society.
www.kulturisten-hoch2.de

8.) Foundation "A place for children"
The foundation "A place for children" builds the so called "Mattisburg" (Mattis-Castle) shelters in Germany for abused and severely traumatized children between the ages of three and twelve.
The Mattisburg-Children are peculiar in their behavior which can be violent and self-destructive. Severe eating disorders can appear as well. Their behavior is too intense for placements with foster parents in residential groups or psychiatric hospitals. These children receive help in the "Mattis Castles". It often takes months for the children to open up and talk about their traumatic experiences. From that point forward the social educators and therapists can start working with them on processing and coping and getting better.
www.ein-platz-für-kinder.org
9.) Bestohlen, beraubt, misshandelt - Der WEISSE RING hilft (Robbed or Abused, the WHITE RING Will Help)
The WEISSE RING in Hamburg has 80 well trained volunteer workers (3,000 all throughout Germany). They are like a social lifebelt, counselor, companion and supporter for all people and families who have fallen victim to crime and brutality (in Hamburg alone there are 1,300 cases a year). The volunteers help the victims with their anger, pain and sadness and are there as long as they are needed (sometimes years). They help in finding new perspectives on life. Every year the WEISSE RING lends 14,000 hours of support in Hamburg alone. The WEISSE RING also engages in projects to prevent violence with teenagers and is financed solely through donation money, member fees and inheritances:
www.weisser-ring.de
10.) "The Shell" (mobile child and youth hospice service)
Receiving a serious diagnosis puts entire families into a state of emergency- it changes everything. Everyday life must go on in addition to the emotional and psychological strain - having time is something very precious. The focus of our work is on children and adolescents with life-shortening illnesses and their families. Our trained volunteer staff visit the families at home regularly, dealing with both- the sick child and the healthy siblings. They have an open ear for the worries and fears – not only of the children but also of the parents.
www.die-muschel-ev.de
11.) Kids & Friends
The Kids & Friends Foundation wants to transform Hamburg children into heroes! Ever since 2008, the Kids & Friends Foundation has been a companion for children and young people in Hamburg who are starting from poor conditions. Children should be able to develop their full potential, to shape their lives independently and to create better future prospects. We support projects regarding education, sports, arts and social issues and evaluate the projects according to defined criteria for sponsoring to make sure the money reaches where it belongs: with the kids. In short- we invest in this city's most important resource and therefore in its future: in Hamburg's children and young people.
www.kids-friends.de
12.) wünschdirwas e.V. (make a wish association)
Wünschdirwas e.V. is a charitable association from Cologne. For the past 25 years many volunteers and 4 employees have been fulfilling the heart's desires of children and young adults with serious illnesses. An unforgettably beautiful experience can give confidence, energy and the courage to face life and help to forget the illness for a little while. Wünschdirwas e.V. works in all of Germany in cooperation with doctors and therapists in more than 90 hospitals, children's hospitals and hospices: www.wuenschdirwas.de

13.) Sponsoring Society Children's Lives Association
When a family receives the diagnosis that their child is seriously or incurably ill, their world collapses. It is almost unbearable. For these families, the sick child becomes the center of their attention, everything else comes second - especially the sibling, the job, friends and everything else. This often results in broken marriages, unemployment and social exclusion. The aim of the Sponsoring Society Children's Lives Association is to help these families, and especially the children, with their often unbearable everyday lives. We have been able to help many families so far and fulfill their wishes and dreams – very modest wishes. This has shown us that it does not always need large sums to help and to spread joy. The children and adolescents want simple things that make their difficult time during chemotherapy or at the hospital more bearable.
www.kinderleben.de

14.) Oll Inclusive (old inclusiv)
Oll inclusive is for a generation aging very differently from the way their parents aged. The new elders grew up with economic miracles, rock 'n' roll and the student movement. They have firsthand experience of the invention of color TV upt to the invention of the latest smart phone. They like to hang out, talk, laugh and go dancing. In short, they are the youngest olds ever. A class of their own. What moves them is to experience culture together, enjoy music, make friends, be inspired and feel life. A diverse, happy togetherness knows no age limit. That's why Oll inclusive, as a charitable Hamburg initiative, created a network open to all seniors of 60 plus years.
www.oll-inklusiv.de
Recent Vote
Here you will find the TOP 18 of the last election of September 2019

Rescuing Castaway - Die Seenotretter (October)
Baloo and You - Big Commitment for the little ones - Balu und Du (November)
Children's and Youths'Hospice Rainbow Land - Kinder- und Jugendhospiz Regenbogenland

4.) Hamburg Beacon
5.) Viva con Agua
6.) Hanseatic Help
7.) A place for children
8.) Robbed or Abused, the WHITE RING will help
9.) Angelika Reichelt Children's and Youths' Hospice
10.) German Doctors
11.) Joy and participation for the poor elderly - Kulturistenhoch
12.) The Shell (mobile child and youth hospice service)
13.) Kids & Friends
14.) Make a wish association
15.) Sponsoring Society Children's Lives Association
16.) Nestwerk e.V.
17.) Oll Inclusiv
18.) Young & Old e.V.