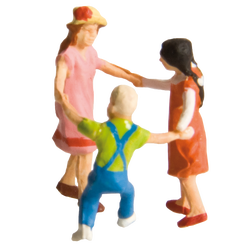 Donation Pins and Magnets
We live in a rich part of the world. Many of us are doing well to very good - but looking at the rest of the world though, we are doing excellent and outstanding.
Background Information
Fortunately, there is a great will to help the less privileged and generous amounts of money are donated for the good cause. Still, every day around the world thousands of children are dying who, had their fate been different and were they born in rich countries like Germany, probably would still be alive today. But also in Germany there are poverty and illnesses, which hinder children from having the harmonious and care free childhood that most of you probably had.
We are only a small middle class enterprise, but we are lucky to draw quite a bit of attention. We have already used this attention in the past to support charities, including donations from ourselves as well. Both of this shall bring a lot more money in the future for the good cause.
Now we have come up with a special campaign: Many people have asked us about pins from the Wunderland in the past. Since 2007, we release a new collectible pin every month, and since 2010, we offer collectible magnets as well. The pins and magnets of each annual edition share a common theme, e.g. a section of the layout or special vehicles. They cost 2.90 Euros each, a standard market price - but in our case, it is entirely forwarded to the respective recipient of the donation, as our share of the donation are the manufacturing costs for the pins and magnets. We don't deduct them and donate the total gross turnover from the sale.

Between the years 2001 and 2019 we had varying quantities for each pin and magnet (between 1,000 and 2,500 pieces each). Consequently, each pin had earned a different sum for donations. The pins with the most votes received the highest donation amount.
In 2020, we had an even quantity of 750 magnets and 750 pin for each design, so a monthly donation amount of 4,350.00 Euro.
In 2021 we produced 762 Magnets and 360 pins which amounts to 2,992.80 Euro dontations in each month.
We'll receive the same amount again for the year 2022, however, this year we are producing 600 magnets and 432 pins for each design.

Since January 2023, we do not feature monthly assigned pins and magnets any longer; Instead we now have many different, permanent charity pins and magnets.
In the beginning of each year, we will estimate a reasonable prognosis about the amount we'll expect to sell and then divide the sum by 12. That means, each month, the organizations you have chosen will receive the same donation sum. We think, that is actually a much fairer solution to all. At the end of the year, we'll check whether we have a surplus or minus, and will calculate that difference into the next year.

We have estimated 60,000 Euro for the year 2023, therefore, each month, we'll donate 5,000 Euro. If you buy at least one charity pin or magnet, you can sign up for the elections, and every 3 months, you will receive an e-mail with organizations that are nominated for election. The first three in the ranking will each receive 5,000 Euro, the last organization will get erased from the list. Of course, you can nominate your own favorite children's charity organization. If you have any questions, Sabine will be happy to answer you: s.plueckhahn@miniatur-wunderland.de
We hope everyone will join in! The exclusive annual edition set with a special additional pin or magnet can be purchased in our Onlineshop. All buyers of this annual edition set have the possibility to decide which institution or cause shall be recipient of the donations. We look forward to your participation!
Thank You,
Miniatur Wunderland Hamburg
Current Pins and Magnets
Ever since 2007, we release a new pin, as well as a magnet (since 2010), every month, with the most beautiful Wunderland scenes for collectors to buy. The entire turnover of these sales (and we are not deducting manufacturing costs) is being donated to a good cause - different ones every month. The buyers decide to which cause or institution the proceeds should be donated. The pins and magnets can be bought separately or as annual collections, which include a bonus pin or magnet. A pin or magnet costs 2.90 Euros each, and will hopefully be purchased by all our visitors at our Onlineshop or within the exhibition.
Current Suggestions
Who shall receive the donation money?
Every quarter the buyers of the donation pin annual edition may choose the three institutions who shall be pin partners for the next three months. The suggestions for the institutions come from you.
In order to keep the list at a manageable length, at every vote the last three places are taken from the list and can't be voted for again at the next election.
1.) Ankerland e.V.
Ankerland e.V. is an association working to improve the lives of traumatized children and youths. Their mission is to establish the first counseling and treatment center in Hamburg where young trauma patients could get professional treatment, encompassing medical care, psychotherapy and family support. Ankerland also aims at increasing public awareness for the complex issue of children with trauma and provides a phone counseling service.
www.ankerland.org
2.) Verein Leben im Abseits e.V. (transl.: Foundation 'Marginal Existence')
Leben im Abseits' was founded to educate the general public about the unacceptable and degrading life on the streets, and to raise the awareness that homeless people have the right to be treated with the same dignity respect, and decency as everyone else. We are dedicating our work to find effective, unbureaucratic solutions. It is our aim to prompt a change in the general mindset on a political, economic, and societal level, as well as to reduce inhibitions and reluctancies towards people in need to encourage respectful interactions with them. Without doubt, the mesh in the social security netting is increasingly getting bigger, and that the effects of poverty will further accelerate in the upcoming years. By continuously expanding our network and our cooperation with existing facilities which permanently support socially deprived and homeless people, we want to improve their situation and we aim to sensitize the general public for this topic.
www.leben-im-abseits.de

3.) Lebenswunsch e.V.
In co-operation with employees and volunteers in hospice and palliative labor, we strive to fulfill last life wishes with a focus on self-determination and the safety of the involved parties. Wherever desired and possible, we include relatives as well. Thus, we are giving joyful moments to be shared with all involved. The organization 'Lebenswunsch e.V.' (translat: 'make a wish') was founded to fulfill special personal wishes for terminally ill patients, and to make sure that they can experience their 'life wish' moments with joy. We are working exclusively on a volunteer basis. In all concerns we protect the privacy and the self-determination of the patients.
www.lebenswunsch.org
4.) Stiftung "Ein Platz für Kinder"
The foundation "A place for children" builds the so called "Mattisburg" (Mattis-Castle) shelters in Germany for abused and severely traumatized children between the ages of three and twelve. The Mattisburg-Children are peculiar in their behavior which can be violent and self-destructive. Severe eating disorders can appear as well. Their behavior is too intense for placements with foster parents in residential groups or psychiatric hospitals. These children receive help in the "Mattis Castles". It often takes months for the children to open up and talk about their traumatic experiences. From that point forward the social educators and therapists can start working with them on processing and coping and getting better.
www.epfk.org
5.) Hamburg Leuchtfeuer
Hamburg Leuchtfeuer ("Hamburg Beacon") aims at empowering people with a serious illness to live a self-determined life, thus enhancing their quality of life despite their respective condition. Hamburg Leuchtfeuer offers assistance in the patient's home even at an early stage. It also runs a hospice center thus providing a place where people can live pain-free and with dignity for the time they have left. Hamburg Leuchtfeuer was founded in 1994 as a care organization for people suffering from HIV and AIDS.
www.hamburg-leuchtfeuer.de
6.) Mission Lebenshaus / Kinder-und Jugendhospiz
On August 20th 2014, the Angelika Reichelt Kinder- und Jugendhospiz Joshuas Engelreich ("Angelika Reichelt Children's and Youths' Hospice Joshuas Engelreich") was opened in the city of Wilhelmshaven. From the very beginning our house was meant to be a place to live, laugh and mourn. We provide help and support for children, teenagers and young adults with terminal diseases as well as their families in times of need. Unfortunately, official funding covers only 50% of the overall costs for care, support, housing of our guests and their families, thus we depend on fundraising for the remaining 50%. Please help us help young people and their families by contributing to our pin donation campaign, so that they can get relief and support in the remaining time to the end of their lives.
www.mission-lebenshaus.de
7.) wünschdirwas e.V. (make a wish association)
Wünschdirwas e.V. is a charitable association from Cologne. For the past 25 years many volunteers and 4 employees have been fulfilling the heart's desires of children and young adults with serious illnesses. An unforgettably beautiful experience can give confidence, energy and the courage to face life and help to forget the illness for a little while. Wünschdirwas e.V. works in all of Germany in cooperation with doctors and therapists in more than 90 hospitals, children's hospitals and hospices:
www.wuenschdirwas.de
8.) SOS Kinderdörfer (SOS Children's Villages)
The SOS Children's Villages take care of the well being of children around the world. In the villages orphans and other children in need have the possibility to grow up in a family. They receive shelter, food, education and medical treatment:
www.sos-kinderdoerfer.de
9.) Doctors without borders
"Doctors without borders" is a private medical first aid organization, with their basic principles written down in a Charter. One of these principles is to help all victims regardless of their ethnic origin or their religious or political beliefs. "Doctors without borders" is neutral and impartial and works free of any bureaucratic constraints. To keep this independence they are financed by at least half through private donations:
www.aerzte-ohne-grenzen.de
10.) Herzenswünsche e.V. (Heart's desire foundation)
Herzenswünsche e.V. is an association working throughout Germany, making dreams come true for children and teenagers with terminal illnesses.
Roughly 70 volunteer workers and 3 employees develop close liaisons to the children concerned as well as their families, doctors, therapists in order to find out which wish fulfilled could bring hope and good energy for the child. It is often the case, that a dream come true can help in coping with the strenuous everyday life at the clinic. For any kind of support we are tremendously grateful.
www.herzenswuensche.de
11.) Kinder- und Jugendhospiz
The "Kinder- und Jugendhospiz Regenbogenland" (Children's and Youths' Hospice Rainbow Land) is a home for children with a limited life expectancy due to a fatal disease or a severe handicap. It is a place that focuses on life and joyful living, thus allowing families to spend the remaining time with their child as positively and fulfilling as possible. It is also meant to be a support for the family and a complement to the health care at home which can - especially in the long run - become very challenging for the relatives involved.
www.kinderhospiz-regenbogenlan...

12.) Elmshorner Suppenhühner (transl.: Elmshorn Soup Chickens )
We are helping helpers! In her own words Martina Kramer from the town Elmshorn is 'sweet little 61'. With her initiative is dedicated to help the homeless. Since more than 5 years, she is providing people in need with food, hygiene supplies, and everyday objects like sleeping bags, clothing, and much, much more. Since two years she has her own van to reach even more homeless people throughout Hamburg and Schleswig-Holstein. Before that she only had a handcart for her deliveries. By now, Martina has acquired quite a few more helpers for her project. Many of her friends are baking and cooking, or are supporting her on-site, so she can continue her dedicated help for people in need.
www.helft-martina-helfen.de

13.) Kinderkrebszentrum Hamburg e.V.
The association for the childcancer support in Hamburg supports the child cancerunit at the UKE (Eppendorf University Hospital). Approximately 600 children are being treated here both residential and ambulant. It is our goal to provide all means, material and staff wise, to support the patients in the best possible way and to enhance research as well as exchange of experience about reasons for and treatments against cancer in children. We also support parents who are in financial distress due to their child's illness.
www.kinderkrebs-hamburg.de
Recent Vote
Here you will find the TOP 12 of the last election of October 2022

Starbridge
DKMS Registry of German bone marrow donators
Dunkelziffer - Making children stronger
4.) Children's and Youths' Hospice Rainbowland
5.) Mission Lebenshaus
6.) Elmshorn Soup Chickens
7.) SOS Children's Villages
8.) Hamburg Leuchtfeuer - Hamburg Beacon
9.) wünschdirwas e.V. (make a wish association)
10.) A place for children
11.) Ankerland e.V.
12.) Hospital zum Heiligen Geist – Life quality and diversity for senior citizens