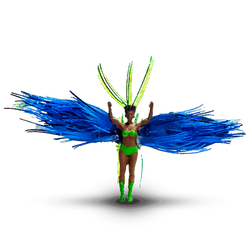 Sambodromo
The dazzling carnival of Rio de Janeiro is world-famous and the colorful interplay of costumes, lights and samba could of course not be missed in Miniatur Wunderland.
For four long nights, dazzling costumes and colorful carnival floats transform the 700-meter-long grandstand street of the Sambodromos into a sea of color.
Samba schools compete against each other here every year, vying for the title of best school. The parades are cheered on the grandstands by nearly 88,000 visitors.
The magic of the Rio Carnival spurred us on to develop what is probably the most elaborate button-pushing action in Miniatur Wunderland. The result is a fireworks display of hundreds of LEDs and countless mechanisms that start moving, accompanied by samba music. In the process, the entire carnival procession moves slowly along the spectators through the alley. The three large floats in the shape of a butterfly, a turtle and a parrot are complemented by the baianas, the drummers and passistas. The overall image of the dancing procession appears in a colorful gradient of rainbow colors.