Since it is almost always packed in Wonderland, there is a lot of crowding, there are no longer any distances and there is really a real "closeness" like before, we RECOMMEND wearing a medical mask, but of course we leave the decision to you.
The largest Model Railway in the World in Numbers
The Miniatur Wunderland is hard to describe in words, so we have summarized the most important facts in numbers:












Our Worlds
Ever since the year 2000 the Miniatur Wunderland has been steadily growing. Most currently our . world was opened on . Further theme worlds have been planned until 2028. From the very beginning we have kept our construction sites and our workshops open for our visitors. We wanted to make sure that you would always have the chance to watch our model builders and technicians while they were working and see how the landscapes were coming along. Here you will find pictures and information about the already built worlds.
Current Offers for You
Whether with the family, with a good friend or as a group: If you have a further journey to Hamburg, you will find in our travel offers the all-round package including travel and accommodation at fair prices.
Find out what drives the Wunderland
The Miniatur Wunderland is without doubt a 'wonder' not only because of its landscape and surface area, but also due to the technology used to under-pin the exhibit. Gerrit Braun and the model-making team have pushed the limits of model construction, with a large part of the exhibit custom-designed and built.
Special Events
If you would like to visit the Wunderland without big crowds and in a relaxing atmosphere, we would like to recommend our four special evening events to you. Each unique and special in it's own way. We are sure that there is the right highlight for everyone.
That's what our Visitors say
Sign up for our Newsletter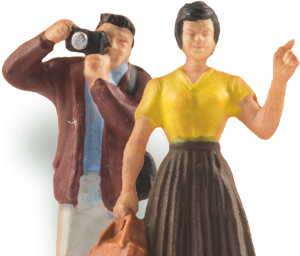 Straight to your digital mailbox
Easily receive news, offers & interesting information.